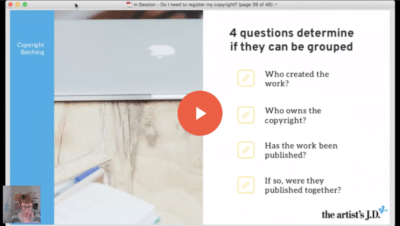 Do you need to register your copyrights?
Learn why registration can mean the difference between getting something or nothing from your copycat.
Get instant access to a 66-minute actionable workshop so you can understand the value of registration. Plus get access to the workshop slide deck and a best practices workbook.
Do you ever have this internal debate?
I want to share this with my community.

What happens if someone steals it?

But this content is so helpful.

What happens if they steal it and make money off it?
Ok….I guess…tentatively hitting the publish button.
The reality is that any time you post on the Internet you have to do with the knowledge that someone might steal it. Because it's only a matter of time until good things are stolen or plagiarized.
So what can you do to protect your content online?
Let's start off with the fact that the only way to protect yourself is to not post your content online. But not posting it is unrealistic and a good way to prevent anyone from knowing, loving, and buying your work. In fact, in our modern era, it's a good way to end your business.
So you are going to have to suck it up and do it, knowing that it will be used without your permission. However, there are a couple practical things you can do to protect your content online. What are they?
register your copyrights
reduce accessibility
monitor your content
trust in people
take action when necessary
#1: Register your copyrights
My philosophy is you should register a copyright for anything you:
intend to monetize
would be upset that someone else monetized
But this is only cost-effective if you work this into your workflow and register your copyrights before they are published. (If you want to see my process here's part 1, 2, and 3.)
I've got my whole rant here. But the short version is without a copyright registration, you'll have a hard time enforcing your copyright. That piece of paper gives you the ability to enforce your copyright when you need it.
#2: Reduce accessibility
The second way that you can protect your content online is by reducing who has access to it. You can limit access to your content with passwords, a paywall, or private pages. And these tools are getting more and more affordable.
For example, my legal library for creatives, the artist's Courtyard, is protected using a WordPress plug-in called Restrict Content Pro. It allows me to control access based on the kind of membership someone has subscribed to. If you've signed up for the free legal resource library portion of the artist's Courtyard, then you have access to some, but not all the resources. Those with a paid membership, have access to all the resources.
Another common example is a solution I see many of my friends with wholesale accounts use. They have a password-protected section of their website for their wholesale accounts. Wholesale accounts can see line sheets, download graphics, and place an order, but only once they provide the password.
However, this solution is only practical if it passes a cost-benefit analysis. It's probably not a good investment to spend thousands of dollars on reducing access for a free e-course. But it's a different story to invest in protecting your:
product photography
illustrations available for licensing
flagship high-value course
#3: Monitor your content
There are powerful tools to track down where else your text and visual content is appearing on the Internet. Some of these tools are automated and super easy, but others require elbow grease. At this point, I'm not aware of a tool to track down where else your video content appears. (If you know of one, tell me!)
Yes, these solutions add to your admin task list. But being proactive allows you to find other uses of your content. Sure, your audience, customers, clients, friends, or family might tip you off, but they will never catch all the unauthorized uses of your content.
And having a monitoring system in place allows you to assess which uses help your business and which ones cross the line and you want to stop. (See #4)
#4: Take action when necessary
If you've got a system in place to monitor (or someone tips you off), then occasionally you'll find something that crosses your line (wherever that is). And then because you've registered your copyright, you can take whatever action is best.
Now taking action isn't fun, but it's part of your job in protecting your content.
Here's my mini-rant. People who steal content will continue to steal until it's no longer financially viable. And if no one ever calls them out, then it will continue to be profitable. And end mini-rant.
If you feel like someone has crossed the line in their use of your content, then it's time to decide if and how you can act. Enter your email below below to grab my quick guide to deciding what you can do.
DOWNLOAD YOUR "HOW TO DEAL WITH COPYCATS" WORKBOOK
Dealing with a copycat? Enter your email to download a workbook with the 4 questions I use to decide how to react. It'll help you decide if you can, can't, or maybe shouldn't take action.
#5: Trust in people
Now most lawyers care more about the law, than the practicalities of running a business. But you know that I try to find the balance between the two. So yes, I want you to take the first four steps, but I also want to be realistic.
Part of this balance is trusting in your ideal customer. And trusting that what you are doing is going to resonate far better than someone stealing your stuff. So do the things I suggest above, but don't obsess too much over it. Because I know full well that this process can take over your life.
Bonus: Watermarks aren't the solution
So far, I've not mentioned watermarks. And that's because I don't see them as a solution. In fact, I see many creative business owners doing their business a disservice by slapping a huge watermark on their images.
I understand the premise of why it's done. It's done because they know, just like I do, that it's only a matter of time until someone uses their imagery without their permission.
But a huge watermark only discourages people from interacting with your content. It discourages sharing. And if you are doing it for your artwork, it makes it hard to visualize how your work would look in a home. It's visually distracting and unappealing. Sure, removal of a watermark gives your attorney another thing to sue over. But under the law, a discrete watermark is just as effective as something that takes up the whole image.
Don't get me wrong, I'm not opposed to a small watermark in the corner of an image. But if you want to go that route, I encourage you to look at the watermark from the viewer's perspective. And ask yourself, with this kind of watermark:
will they be able to make a purchasing decision
will it detract from their desire to purchase my work
will it deter legal sharing and exposure of my work
If the answer is yes, then modify your watermark until it's no longer a distraction.
How do you safeguard the content you post online? Are you feeling more confident to hit publish with these guidelines?

DOWNLOAD YOUR "HOW TO DEAL WITH COPYCATS" WORKBOOK
Dealing with a copycat? Enter your email to download a workbook with the 4 questions I use to decide how to react. It'll help you decide if you can, can't, or maybe shouldn't take action.