Putting ease into legalese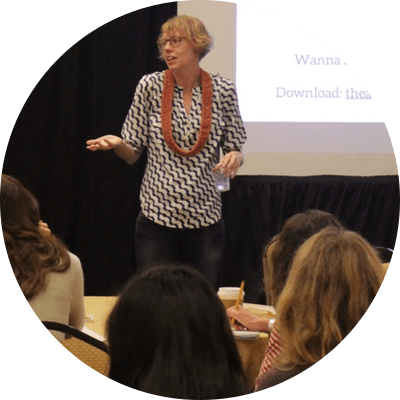 I understand how to show creative entrepreneurs that there can be ease in the legalese of running their business. Since 2011, I've been assisting creative business owners both as their lawyer and their legal guide. I launched the artist's J.D. to provide practical, intuitive legal resources that empower creative business owners. And everything I create is aimed to add ease into the legalese of running a creative business.
At the core of each of my talks is practical, actionable advice that the audience can apply immediately. I connect using personal stories and experiences pulled from my years of working with creative businesses. And my intuitive style breaks down tricky legal concepts in an easy manner. Audiences leave feeling inspired and empowered to tackle the legal aspects of their business.
What you can expect
If we decide that I will be a good fit for your event, here's what I promise to you:
1-on-1 conversation before the event to make sure I understand the needs of your audience and how I can customize the content to best meet their needs
prompt response to your inquiries and emails
promotion of the event through my email list and social media channels, when appropriate
professional presentation—without the usual lawyer-stuffiness
custom resource page for event attendees, including the slide deck and other related resources
follow-up after the event for feedback
Before I attended Kiffanie's workshop, Increasing trust and sales in your online business, I knew I wanted to grow my online store, but I didn't know what needed to happen next. From privacy policies to terms of service to what is required and what isn't, what's a good idea and what isn't, Kiffanie was able to explain legal concepts in a clear, non-jargony manner. Her legal prowess shined through, but her personal experience as an artist and commitment to making things relatable and practical took all of the stress out of understanding these concepts.

Emilie Coulson, Daughter's Granola
Most requested topics
Sessions teach legal topics critical to creative business owners, without stuffy legal jargon. The most popular sessions cover:
contracts
copyright
terms of service and privacy policy
In addition to the below topics, I am happy to create a custom presentation for you and your audience on legal topics impacting creative business owners.
How to be the kindest biz person around
I love contracts because they are a tool to create shared responsibility—not to prevent you from getting screwed over. In this workshop, you'll learn how contracts are a courtesy you extend to others. And how the black and white text of a contract can empower you when emotions run high. You'll leave with tools and resources to create your contract and confidently hand it over to the other side.
How to defeat copycats
If you are running a successful creative business, you'll encounter copycats. They'll make your blood boil and disrupt your productivity. In this workshop, you'll get an action plan that you can follow anytime a copycat crops up. So you'll be able to call your friend and rant, but then take action and keep your business moving forward.
Increasing trust and sales in your online business
One of the primary factors in getting someone to hit the buy button is trust in your brand. In this workshop, you'll learn how you can boost trust with potential customers on your website. You'll learn that privacy policies and terms and conditions can reflect your brand and your voice. And that they don't have to be full of legal jargon. By the end, you'll have played website Mad Libs to create your terms of service and privacy policy and can walk out the door and post them on your website!
Kiffanie provided an invaluable perspective on the Craftcation panel I moderated. She not only has a wealth of legal knowledge, but she knows her audience: artists and creatives who may not have a strong handle on the legal side of their business– myself included! Kiffanie makes the information easily accessible. She also has an engaging presence and is fun to work with. Any creative business owner, or conference geared towards artists trying to make a living, would benefit from Kiffanie's perspective and expertise.

Ashley Nickels
Upcoming Presentations and Workshops
Past Presentations and Workshops
Creativation, January 2019
Maker's Biz Summit, March 2018
Creativation, January 2018
Craft Industry Alliance, April 2017
Craftcation, April 2017
Maker's Biz Summit, March 2017
Midwest Craft Con, February 2017
Craftcation, April 2016
CreativeLive, January 2016
Right-Brain Entrepreneur Mentor, August 2015
Business Camp by Tradeshow Bootcamp, July 2015
Thriving Artist Summit, January 2014 and January 2015
Kiffanie's Defeating Copycats session was incredibly helpful and informative. I left the session with a newfound knowledge base on assessing various copyright infringement scenarios and determining best courses of action.

Her extensive knowledge and experience with the issues that artists frequently encounter are paired with an intuitive way of making legal terms and concepts understandable. It's comforting to know that there is an expert lawyer who not only knows her stuff but can break down intimidating information into digestible parts.

Kimberly Taylor-Pestell, Lacelit
Want to start the conversation?
Speaking photo courtesy of Dear Handmade Life