We are going to start off by making sure we are all on the same page about some key aspects of copyright laws. Understanding these underlying principles will be a huge help as we move through the month. We've got a lot to cover, so let's jump in.
Why do copyright laws exist?
One of the things I learned in law school was that by understanding the public policy behind a set of laws, some of the nuances began to make sense. So why do we have copyright laws? The founding fathers believed that artists should have a monopoly on their creations for a 'limited period' of time after creation.
The founding fathers believed that artists should have a monopoly on their creations for a 'limited period' of time after creation.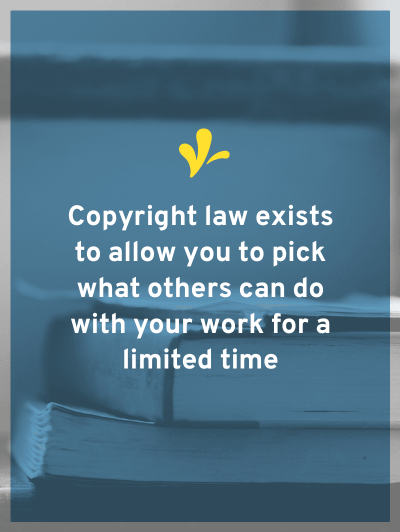 They believed that this would foster development of artistic works because it would provide a monetary incentive to creatives to create. Now, I know that some of you are thinking that you would create regardless of this incentive, but that's why copyright exists. File this away for now and if something below seems odd, see if you can rectify the rule when taking this underlying principle into consideration.

What does copyright protect?
Copyright protects "original works of authorship" fixed in a tangible form. Yep, that's a mouthful, so let's back into what this means by examining first what is not an "original work of authorship".
What's Out
Titles. The Copyright Office specifically excludes titles, names, short phrases, and slogans from copyright protection. So there can be hundreds of books, paintings, or photographs called "tau-gu vision" and no one can stop someone else from using that title.
Factual Information. Another category not receiving copyright protection is works containing only commonly available information (think calendars, lists, or tables) and facts. For example, you can't stop someone else from making a 7×4 grid representing the month of June, but you can protect the calligraphy lettering and illustration that you pair with that grid.
Ideas. How you carry out your idea is what's protected, not the underlying idea. For example, you can't stop someone else from drawing animals riding bicycles. What you can prevent is someone tracing your illustrations, downloading them off your website and printing them, or buying a print from you and making copies of it.
Functional Items. The final area that trips up some creatives is that copyright does not protect objects that have a primarily utilitarian function. Common examples of this are clothing, accessories, and furniture. However the purely decorative elements of these pieces can have copyright protection. For example, the elements required for a necklace to work wouldn't get protection (the chain and clasp). But if I laser cut a design into leather and this leather piece only functions as decoration, this part of my necklace could gain copyright protection.
What's In
That leaves a lot of ground. So what is protected as an "original work of authorship"? (This often is shortened to work)
Literary, musical and dramatic works (a book by David Eggers or Bob Dylan lyrics)
Graphic, pictorial and sculptural works (a piece of street art by Banksy)
Sound recordings (a MP3 by Beyonce)
Computer programs (Adobe Photoshop)
Choreographic works and pantomimes (a dance routine in the musical The Book of Mormon)
Motion pictures and other audiovisual works (House of Cards)
Architectural works (Coit Tower)
Compilations and derivative works (a book of poetry featuring several San Francisco Bay Area poets)
Who is the copyright owner?
Generally, the answer to this question is the person who created it. Except.…
If you are an employee and you create something on the job and act within your job description, then your employer owns it.
You have signed a written work for hire agreement.
If you want to transfer the copyright ownership to anyone other than the original owner, there must be a signed, written agreement.
What are my rights as a copyright owner?
Copyright owners have the exclusive right to do the following:
Make copies or sound recordings of the work (print copies of a JPG/RAW image file or turn my sheet music into a MP3)
Make derivative works (write a screenplay for a book or turn my photograph into an illustration)
Publicly distribute copies or sound recordings of the work for sale, rent, lease, or lending (sell art prints or license my illustration)
If it's a literary, musical, dramatic, choreographic, pantomime, motion picture and/or audiovisual work, perform the work in public (show your movie at the The New Parkway or put on my play at Berkeley Rep)
If it's a pictorial, graphic, or sculptural work, display the work in public (have a gallery show)
If it's a sound recording, play the recording via a digital audio transmission (play the song on Pandora)
How long does my copyright last?
For most works the answer is the life of the author plus 70 years. For example, Maya Angelou passed away this year, so her works will be protected until 2084. Unless the work is:
Owned by the employer
A work for hire
Published anonymously
Published under a pseudonym
If any of the above is true, the copyright lasts the shorter of 95 years from first publication or 120 years from creation.
© 2014 Kiffanie Stahle
Since March 1, 1989, you no longer are required to use a copyright notice on your work. However, copyright notices are beneficial because they inform the public of three things:
That the work is protected by copyright
Who created the work
What year the work was first published
So while you don't have to put the copyright notice on your work, you might want to.
(Quick aside: If you put a copyright notice on an electronic version of your work and someone removes and posts it without the notice, then you might also have another reason to sue the person other than copyright infringement (§1202 of the Copyright Act). So that's just another reason you might want to include a copyright notice.)
What's the difference between having a copyright and registering it?
It's true that you own the copyright the moment you finish your work. But registering your work with the U.S. Copyright Office within one of two windows gives you additional rights:
Within three months of first publication OR
Prior to the infringement
What are these rights?
Attorneys Fees. The Copyright Act allows the court to award you attorney's fees if you win your lawsuit, but only if your work is registered in one of the two windows. Lawsuits are a hugely expensive endeavor. If your work is infringed, this provision might make it possible to find an attorney willing to take your case on a contingency basis, thus making it possible to pursue a lawsuit.
Statutory Damages. An infringement lawsuit has two major parts. The first part requires showing that the other party improperly used your work. If that is shown, then the second part determines how much money you get for their improper use. This second part is where the other major benefit comes into play. If you have registered your work within one of the two windows, the law allows you to opt into statutory damages (ranging from $200-$150,000 per infringement) rather than having to prove things like your normal licensing fee, their profits, or how much work you lost because of their improper use.
It can be overwhelming to register your copyrights
Learn to confidently register your copyrights with the U.S. Copyright Office…even if you have tried (and given up) before!
Get access to an in-depth course guiding you step-by-step and screen-by-screen through the process of registering your copyright with the U.S. Copyright Office. You'll go from not knowing what you are going to register to having a strategy for future registrations.
And if you get stuck, you'll have our 24/7 online community to help you out!
---
When is first publication?
The subject of first publication has come up a couple of times. In the old days, publication was a little clearer cut, but the Copyright Office hasn't given us guidance as to what in our Internet era constitutes publication.
Since the 1970's we've known that a sale, license, or offer for sale all constitute publication. So if you license a piece of artwork, have a button on your website allowing individuals to purchase the work, or create a commission, those are all published.
But what happens if you just post your work on Flickr (and don't use the Getty/CC license) or what if your website only functions as a portfolio? Right now, I can't tell you if this act is considered first publication. Some courts have said that this does constitute publication others have said that it does not. If I were to put on my risk-adverse hat, I'd tell you that it might be wise to assume that anything on the Internet is published.
---
Got questions about this post?
---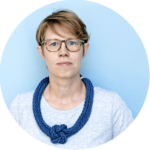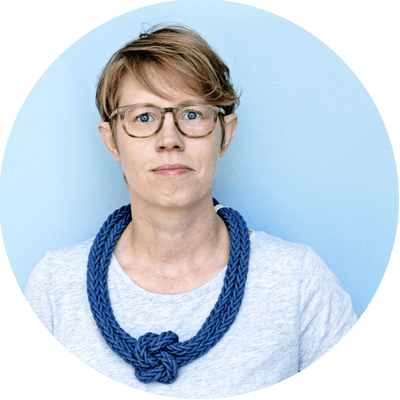 Hi! I'm Kiff! I'm your friendly legal eagle (and licensed attorney).
My goal is to add ease to the legalese. And because I think basic legal resources should be available to every creative, I create a lot of free content.
If I've created something that has helped inject a little ease into your creative business and you would like to say "thank you", you can make a contribution here.
If you'd like to hear more from me, I'd love to pop into your inbox every Friday morning to share additional ways to cut through the red tape and inject a little ease.
Get tips from your friendly legal eagle in your inbox…
Your privacy is important to us. Learn how we protect it here.