Overwhelmed by all the legal to-dos?
Click here
to get a free legal tip each week in your inbox from your friendly legal eagle.
With a cup of coffee in hand, you open up your laptop and sit cross-legged at the kitchen table. As the screen comes to life, your browser is open to your email account. You hit refresh and scan the dozens of emails that came in. And immediately one catches your eye.
Potential Licensing Opportunity
You excitedly open the email. The sender found your Instagram account. Then checked out your website. And is emailing because they like your style and think it would be a great fit for a product they are working on. And ask if you have an image that could be licensed exclusively for this product.
You do a little Google searching and the company seems legit. So, you respond that you would love to work together and ask what the next steps would look like.
They request that you send over an image set of work that could be exclusively licensed.
If you were to ask your lawyer-friend what images you could send, I'd say that you don't have enough information. Because at this point you don't understand what exactly they mean by "exclusive license."
What is an exclusive license?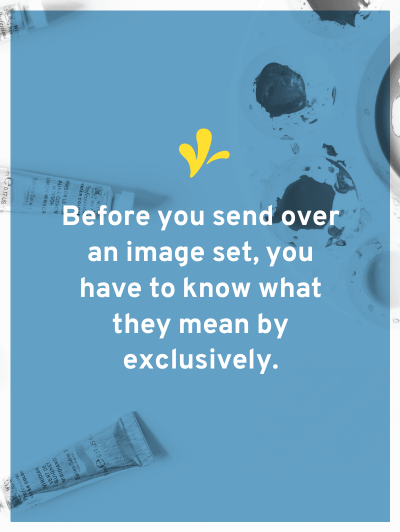 When you grant an exclusive license, you give them permission to be the only one that can use that image. And you are required to promise in your contract that you haven't given overlapping licenses. You'll likely have to back up that promise by promising to pay their legal fees if this promise isn't true. In legalese, these are the warranty and indemnity sections of your contract.
But rarely you are going to be giving them a blanket exclusive license. The license will likely be narrowed by one or more factors:
So, before you can send over an image set, you have to know what they mean by exclusively.
Do they mean:
exclusive
exclusive for fabric
exclusive for worldwide use on websites and social media for the next five years
exclusive for t-shirts sold in the United States
Because what they mean will influence what images you are going to send over.
For example, you can't send them images you've posted on Instagram if they want a social media exclusive license. This is because you've already given Instagram a perpetual non-exclusive license to use that content. This means that you can't promise that they are getting exclusive rights. And you can't send over that image.
As a quick aside, most licensees don't want to license any artwork that's been posted on social media. So, if you've posted it on social media, you should be transparent about that fact. I suggest this for all licenses because it helps you establish a good relationship with your licensees.
So what do you need to know?
So take a minute to send a follow-up email that asks,
Could you let me know what kind of exclusive license you'll need? I don't want to send over an image that you love that ends up having conflicting restrictions. Let me know and I'll prepare a set of images that will meet your needs.
Then when your contract comes, double-check that the license matches your conversations. The reality is that indemnity clauses are inherently scary. They are scary though when you promise multiple people the same thing.
How you can easily apply this today
Create a canned response that you'll use for every licensing request. Use it to express your excitement and get clarification on what kind of license they need. And if they are requesting an exclusive license, get clarification on what products, geography, or time they will have exclusive rights.
Create a spreadsheet that you'll use to track what you've licensed. Then when a licensing opportunity arises, you won't have to figure out what you can send.
Does that help you decide what you can or cannot share with a potential licensee? Share your thoughts in the comments.