I can guess what your reaction will be when I start talking about the need for a privacy policy on your website. It's usually feigned attention and eye rolling. In fact, when I ask people point-blank why they don't have one, I usually hear the exact same answer:
I don't need one.
This is wrong. You need one for two reasons.
It's the law to have a privacy policy
The first reason is by law a privacy policy is required if you collect information on a single California website visitor. So if you:
make a sale to a California resident
have a California resident visit your site and it is monitored by Google Analytics
get an email from a California resident via your contact form
add a California resident to your MailChimp newsletter list
You've collected personal information on a California resident. And because of that you need a privacy policy to explain what information you are collecting and what you do with it.
You've promised you have a privacy policy
The second reason you need a privacy policy is that you've made promises that you have one. When you:
Even if we take the law and the promises you make out of the equation, having one is smart business practices.
Why you have a privacy policy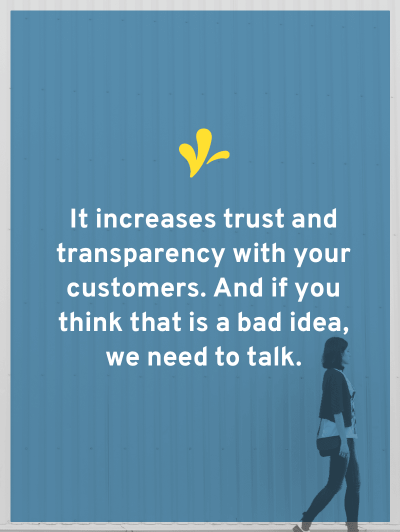 A privacy policy explains to your website visitors:
what you know
what you are doing with the information
It increases trust and transparency with your customers (and potential customers). And if you think that is a bad idea, we need to talk.
If I've convinced you to create a privacy policy, then I face my second hurdle in this conversation: the fear of legalese.
Writing a privacy policy
Yes, doing a Google search for "privacy policy template" will get you legalese-heavy documents. But they don't have to be that way.
Just like you can write a contract without legalese, you can write a privacy policy without one.
All you need to do is go back to school and use the 5 W's + 1 H. And write out:
who is collecting the information
what are you collecting
when you share it
where you use it
how I find out what you know about me
why are you collecting it
If you want to see what this can look like, here is mine.