One of the keys to keeping your website visitors happy is to establish rules. These rules tell them what's okay and what they can expect. You'd be right if you guessed that these rules go by the legal name of "terms of service" or "terms of use."
So you do the hard work, you brainstorm, you write some rules, and you post them on your website. And 90% of the time when something goes wrong and you point to the rules, the other person says "oops!" and you work something out. But 10% of the time, this doesn't happen.
And an even smaller percentage of the time the other person threatens legal action because they are pissed. So you call your friendly, creative lawyer and they look at your website terms of use and say,
Hmmm…we might have a hard time enforcing those rules.
The reason your lawyer might be concerned goes to the core of what you must have to form a valid contract:
offer
acceptance
exchange of something
When you set rules for your website, you are telling your visitors:
I'll give you access to my website and content as long as you are okay with these rules.
Doing this covers the offer and exchange portions of a valid contract.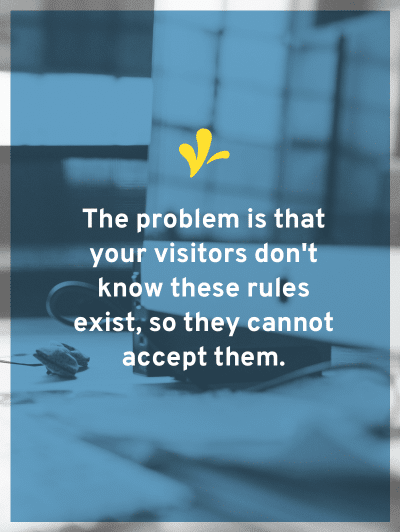 The problem is that many visitors don't know these rules exist so they never accept your rules. And because of that, you don't have a valid contract that you can enforce.
There are two different ways that websites try to get visitors to accept their website terms of use.
Click-wrap terms of service
A click-wrap terms of service requires visitors to check a box or hit an "I accept" button before:
creating an account
making a purchase
entering the website
You've probably entered into hundreds of these kinds of agreements when visiting different websites.
Browser terms of service
A browser (or browser-wrap) terms of service doesn't require any action by visitors. Usually, the visitor only knows they are there because the notice it in the footer of your website or on your menu bar. However, they never are prompted to notice (and act) on your rules.
If you were the judge, which of these would you think demonstrates agreement?
If you said, click-wrap terms of service then gold stars for you. Some courts have said there is no agreement with a browser terms of service. Since there isn't an agreement, no contract is formed. And if no contract is formed, you can't enforce your rules.
What does this mean for your website?
If you have critical rules that you want your visitors to abide, then you need to get them to agree to them. You can't just hide them on a policies page.
If you want your wholesale accounts to agree to specific shipping or payment terms
If you want overseas buyers to understand they are responsible for customs fees
If you want your e-course participants to understand that you aren't giving refunds
If you want the buyers of a digital doll pattern to understand that they can't make and sell dolls with the pattern
(Or any other critical rules for your business)
Then you have to get them to agree to your rules.
Probably the simplest way to implement this is to add a checkbox on your shopping cart or login page. Then make checking that box (and agreeing to your rules) a requirement to buy or log in.
You spent far too much time brainstorming and writing those rules to let them go to waste. So, if one of them is super important, then make sure they agree to it.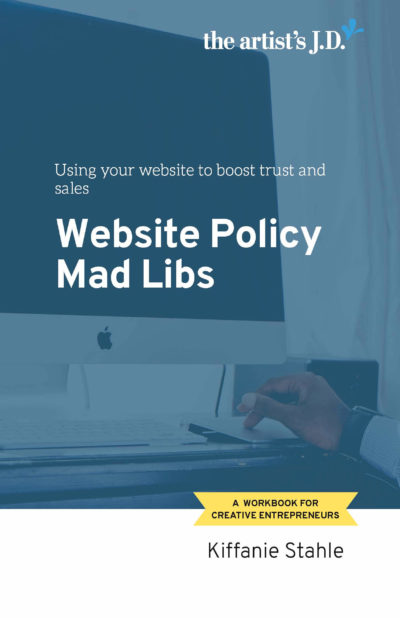 Need to get your website ducks in a row?
Play Website Policy Mad Libs and quickly get policies on your website
Get your Mad Libs terms of service and privacy policy templates today so that you can have them up on your website tomorrow.
Best of all these templates were updated in May 2018 so they cover all the GDPR required language!
Your privacy is important to us. Learn how we protect it here.