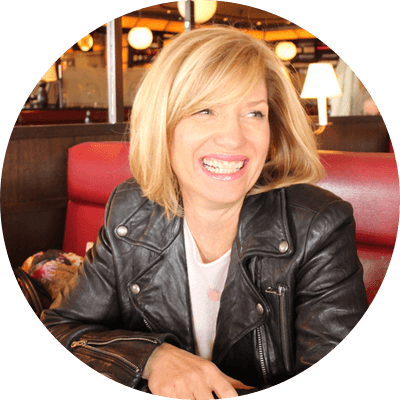 I don't remember how Monica Lee and I first met, but she interviewed me for Smart Creative Women almost three years ago. Monica is one of my idols at infusing herself into her brand. And her new accessories line is a perfect example of her skill in doing this. Just looking at her products tells you that Monica loves to travel, is a romantic at heart, values art and creativity, and is super stylish.
Without diving into the nitty gritty, tell us a little about a time you learned the "legal" ropes…
Years ago, I was approached by a small stationery company to license some artwork for their line. I was comfortable with doing the work because I had had my own line at one point. I signed a simple agreement with a decent royalty and went on my merry way doing work for them until…they sold their company and all the licensed products with my art on them.
Until…they sold their company and all the licensed products with my art on them.
Yuck, that doesn't sound fun, how did you feel at that moment?
When they sold the company, they forgot to mention this sale to the company who had purchased them or me! When I reached out to the new owners—they were NOT happy. I realized that there was no provision for the sale of the licensed product in the simple contract that I had signed.
Did this impact your creative business? How?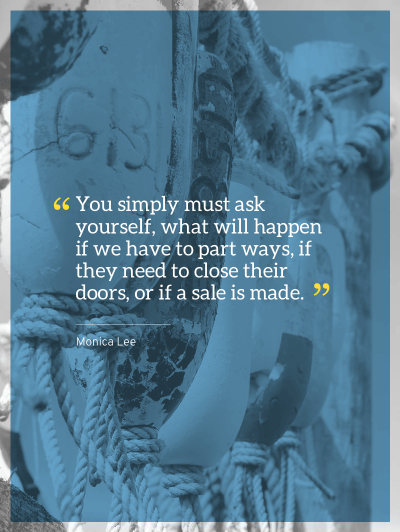 I realized that every contract needs an exit plan, whether it is with a manufacturer or an agent. Anyone you are entering into a relationship with needs a "prenup." You simply must ask yourself, what will happen if we have to part ways, if they need to close their doors or if a sale is made.
I realized that every contract needs an exit plan, whether it is with a manufacturer or an agent.
What ropes did you learn from going through this experience?
It has taken me awhile to come to terms with the fact that you while you always expect the best case scenario, planning and protecting yourself makes you a smart cookie. Having an exit strategy is a more graceful way to do business.
[
How can you avoid this?
As Monica (and Tara) learned the hard way, you need to think about what would cause a contract to end. So it's critical to think about would cause you to part ways—before you sign the contract. Maybe you want to part ways if:
the small business sells a majority interest to another company
the company enters bankruptcy
your primary contact leaves the business
As you review your contract you should make sure you know the answer to this question:
How are we walking away from this relationship?
How do you do this?
You can do this in one of two ways. The first way is by adding some language to your termination clause. You might want it to read:
Termination. Licensor shall have the right to terminate this Agreement immediately by giving written notice to Licensee if:
(1) Licensee fails to pay any amount due under this Agreement on the due date for payment and remains in default not less than [number] days after being notified in writing to make such payment;
(2) Licensee breaches this Agreement (other than failure to pay any amounts due under this Agreement) and (if such breach is curable) fails to cure such breach within [number] days of being notified in writing to do so;
(3) Licensee: (i) becomes insolvent or admits its inability to pay its debts generally as they become due; (ii) becomes subject, voluntarily or involuntarily, to any proceeding under any domestic or foreign bankruptcy or insolvency law, which is not fully stayed within [number] business days or is not dismissed or vacated within [number] days after filing; (iii) is dissolved or liquidated or takes any corporate action for such purpose; (iv) makes a general assignment for the benefit of creditors; or (v) has a receiver, trustee, custodian or similar agent appointed by order of any court of competent jurisdiction to take charge of or sell any material portion of its property or business;
(4) Licensee fails to make bona fide commercial use of the Artwork for a continuous period of not less than [number months/years];
(5) there is a change in control of Licensee.
The second way you can do this is through the assignment clause. The assignment clause controls if either of you can have someone else stand in your shoes. For example, if your Licensee can substitute another company as your Licensee. If you want to prevent substitution you might want your assignment clause to read:
Assignment. Licensee shall not assign or otherwise transfer any of its rights, or delegate or otherwise transfer any of its obligations or performance, under this Agreement, in each case whether voluntarily, involuntarily, by operation of law or otherwise, without Licensor's prior written consent. For purposes of the preceding sentence, and without limiting its generality, any merger, consolidation or reorganization involving Licensee (regardless of whether Licensee is a surviving or disappearing entity) will be deemed to be a transfer of rights, obligations or performance under this Agreement for which Licensor's prior written consent is required. No delegation or other transfer will relieve Licensee of any of its obligations or performance under this Agreement. Any purported assignment, delegation or transfer in violation of this Section 12 is void. This Agreement is binding upon and inures to the benefit of the parties hereto and their respective permitted successors and assigns.
How you can easily apply this today
Pull out your contract review checklist and add: "How can the contract can be assigned?" and "Does the contract terminate if the company is sold?" (or if you don't have one start one with these things).
Bookmark these clauses so that if you need to insert them to a contract you have them handy.
Have you ever faced a similar situation? How did you deal with it? Let us know in the comments.
Want to connect with Monica? You can check out her accessories line here. And if you need some fashion sketches in your Instagram feed, you can follow her here.