Do you remember being drawn into the wonder of the Wizard of Oz? I can vividly remember watching the Judy Garland version of the Wizard of Oz as a little kid. The Wicked Witch of the West and those flying monkeys terrified the crap out of me. Even sitting here writing this, thinking about them make the hairs on my arms stand up. (Although it probably doesn't help that I re-watched it this weekend.) But the Wicked Witch and flying monkeys weren't enough to deter me from the Technicolor land of Oz.
I wanted to remember one scene in detail, which is what prompted re-watching it over the weekend. And that scene is when Dorothy returns to Emerald City after defeating the Wicked Witch of the West. In this scene, she is granted an audience with the Great and Powerful Wizard of Oz. Dorothy and her gang are talking to the Wizard of Oz about defeating the Wicked Witch of the West. And during that conversation, a cat pulls back the curtain to reveal that the Wizard of Oz is just an average man. At that point, the Wizard of Oz tries to save his image. And so he orders Dorothy to "pay no attention to that man behind the curtain."
I know that running an online business is hard. But too often business owners try to be the Wizard of Oz.
All you project to the world is a great and powerful image. You don't reveal to your customers the human that's behind the company. And by pulling back the curtain and revealing who you are, you gain trust. And when your website visitors trust you, they are more likely to hit the "buy" button.
So how do you build trust in ecommerce websites?
There are lots of checklist items that can build trust in ecommerce websites. But I've found that they generally fall into one of two buckets:
showing your website is secure
displaying your brand is reputable
Security
For this bucket, you want to tackle several technical details. These details are things you can install on your website to show that credit card and personal information is safe. And that identity thieves won't intercept this information.
Some of these technical things include:
Reputation
For this bucket, there are some things you can control to establish trust. But there also are several things that add to your trust that are totally out of your control. Things you can control include:
professional looking website
transparent product descriptions (especially when there are restrictions)
transparent return and shipping policies
e-mail, telephone, and mailing address information
about page that shows your face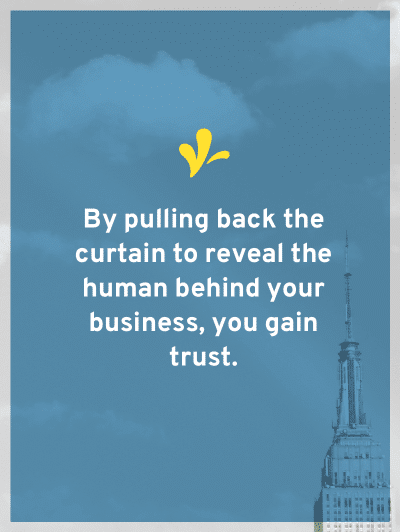 But there are also things you can't control:
customer reviews via your website or social media
conversations customers have with friends
customer's perception of your product's quality and/or value
But by failing to add these things to your website, you are acting just like the Wizard of Oz. You are hiding your human self behind the curtain. You are failing to show that you will safeguard their credit card information and deliver a product that matches its description.
But, when you start to pull back the curtain, you'll show your human side. And we all know that the story of the person behind the brand is one of the driving forces that make someone hit buy. So when you start to pull back the curtain and include these elements on your website you'll gain trust.
Every website needs these trust building elements, not just the big names like Anthropologie or Etsy. Because when you think about it, those brands started off small too—but to grow they established trust. And that trust has helped them grow into household names.
If you are ready to start building trust, then sign up for my free CreativeLive class. And if you want to get a jump-start enter your email below to start building trust by creating a privacy policy.


What else do you look at when you are thinking about hitting the "buy" button? What pushes you from "Do I trust them?" to hitting buy?