Hatred. Frustration. Feeling like you are being taken advantage of.
Every so often I get a call from someone who is feeling like this. She is finally at the point that she can't take the hurt and frustration any longer. Generally, the phone call to me comes shortly after a blowout.
She tells me that she's only been feeling this way for the last few months. She tells me that it started with something little a few months back and that she's been silently stewing since then.
But the story (and the reason she's upset) actually started long before that little incident.
She's at this point because she failed to have tough conversations at the start of her relationship with her business partner.
Maybe they were friends and so she thought, "What could go wrong?"
Maybe she thought about bringing it up, but felt awkward and was afraid that her partner would think it was a power play.
Maybe she was afraid that her partner wouldn't think that she trusted her.
Maybe this was her first venture and she didn't even know what to ask.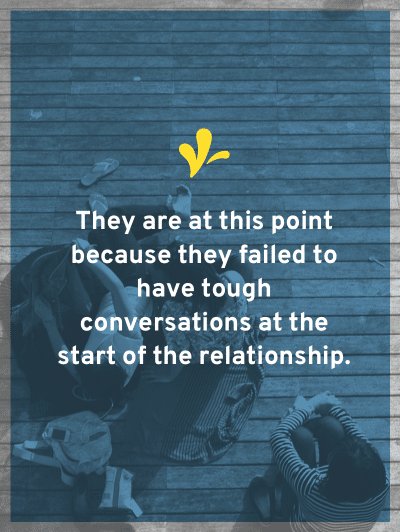 When I get phone calls like this, there's not much I can do. The relationship is usually ruined; it's often beyond a state of repair. Usually, all I can do is pass along the name of a friend who handles "business divorces."
It makes me sad to get phone calls like this because some of these situations could be avoided. She could have skipped over this if she had made sure that they both were on the same page, before starting.
If she could go back in time, what questions would I tell her to ask?
Questions to ask a business partner or collaborator
There are seven homework questions that I give to my clients when they start a new venture. I tell them to sit down over food and talk through each of these questions and come to an answer before we get started.
What is your goal for this project?
What does success mean to you on this project?
How do you see us getting to that definition of success?
What happens if one of us can not/doesn't want/needs to cut back work on the project?
What are our current roles and responsibilities in the project?
How do we hope that changes as we meet our version of success?
What roadblocks would make us throw in the towel?
If you have a business partner or collaborator, I challenge you to make a date and talk through these questions. That way if you have irreconcilable differences, you can either pull out and remain friends or figure out a way to reconcile them.
If you are beginning a new partnership or collaboration, make a lunch date to talk these questions through. It might not be fun. It might be a little uncomfortable. But it will set the table for a stronger relationship.
Do you know someone about to embark on a new relationship? Then please share these questions with them, so they can nip any problems in the bud.
Have you had a relationship turn sour? What questions do you wish you had asked? Are you going to test out these questions? Share your thoughts in the comments.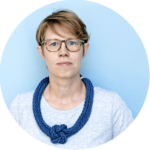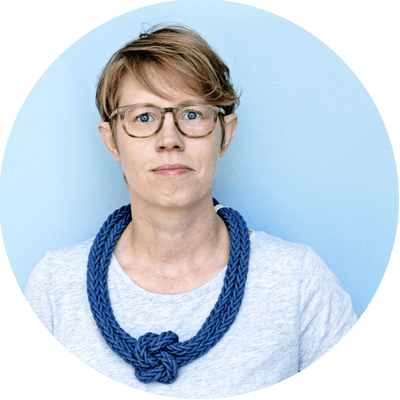 Hi! I'm Kiff! I believe that you can have ease in the legalese of running your creative business.
Each week, I send out an email to help you confidently strengthen your business' legal foundation by sharing my experiences and knowledge.
Get tips from your friendly legal eagle…
Your privacy is important to us. Learn how we protect it here.