The start of a collaboration is magical. The two of you are bouncing ideas off each other, getting inspired, and having lots of fun. Luckily, a good chunk of the time things stay that way and the collaboration goes off without a hitch. But sometimes problems crop up.
Recently I got a call from a woman who thought that she had a successful collaboration. They created photographs together, both felt really proud of what they came up with and exhibited them. Once the exhibit ended, she moved onto other projects.
Later, she discovered that her collaborator was still using these photographs—and making money off them. Enter hurt and frustration, so she called a lawyer.
We talked things through and I started putting together all the pieces of the puzzle to determine what her legal rights were. Once the puzzle was complete, I knew that she is not going to be happy with my answer:
That her collaborator is only doing one minor thing wrong: not sharing the profits with her.
Why was this the only thing that he was doing wrong? Because they had created a joint work under the U.S. Copyright Act.
What is a joint work?
A joint work is created when the following happen:
Two or more collaborators get together and create something covered by the Copyright Act
The collaborators intend their contributions to be merged into single final product
Each collaborator's contribution is inseparable or interdependent from their fellow collaborators
Equal contributions or contributions at the same time or place aren't required. It requires that you both contribute and that you want yours merged with your collaborator's.
A joint work requires that you both contribute and that you want yours contribution merged with your collaborator's.
This happens all the time in collaborations. A musician and lyricist get together and compose a song. Or a writer and a videographer get together and create a film. Or an illustrator and an author create a children's book.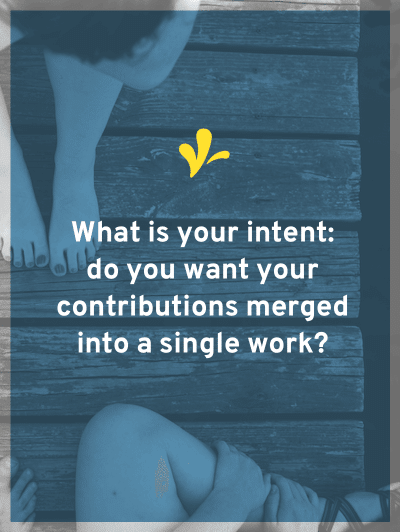 But, it also doesn't happen all the time. A web designer gets hired as an independent contractor to create a service provider's website. Or two writers get together to write a book with one identified as the author of some chapters and the other as the author of the rest. Or a photographer heads over to Model Mayhem to find a model for a photo shoot.
But, each collaboration above could go the opposite way, depending on the intent of the collaborators. Joint works boil down to the intent of the collaborators: did they want their contributions merged into a single work?
Joint works boil down to the intent of the collaborators: did they want their contributions merged into a single work?
Why joint works can lead to problems
Because both collaborators own the copyright in the joint work, each of them can commercially exploit the work. They also have the rights of copyright owners to register or enforce the copyright when copycats strike.
But joint authors must equally share any profits they make from using the work.
So each collaborator can use the work as they want, without checking in, as long as they share the profits. This means that I as your collaborator can use the work in any place that I want to, even if it runs afoul of your brand.
How to nip this problem in the bud
The best way to prevent this from becoming a problem is our favorite boundary setting tool—a contract. Because that's all we are really seeking to do here, to establish boundaries of how each joint author can act.
Your collaboration contract can outline what is a-ok and when you must check in. It might identify the quality and quantity of prints. Or the types of forums that it's okay to commercialize the products in. This agreement should lay out a framework so all collaborators are on the same page about what is and isn't okay and how to act.
The bottom line is this all boils down to intent. So next time you start a collaboration have this tough conversation with your collaborators. Then document the boundaries so you don't end up upset when your collaborator uses a joint work without checking in.
Did you discover that you are joint authors with any of your collaborators? I'd love to hear your answer and what you plan on doing about it in the comments below. Or if you are not, what steps are you going to take to nip collaboration problems in the bud before they happen?