You've got to hustle every day to run a successful creative business. And every morning you wake up, do good work, and keep building a strong reputation.
The last email you want to read one morning is from a lawyer. An email attaching a cease and desist letter demanding you change your name. All because the lawyer believes you are infringing on her client's trademark. Getting this letter is never fun, but it is an even bigger kick to the gut if you've been hustling for a year or more. Because changing the name means starting over. Your slate is wiped clean, and you've got to start reputation-building all over again.
Emails like this are enough to derail productivity for a week (or more) and send you into a rage spiral. Plus, dealing with it is going to cost you a lot of money.
Unfortunately, as Jordan shared, this happens. So how can you avoid it? You avoid it by conducting a thorough trademark search before you settle on a final name.
How to conduct a detailed trademark search
I conduct a handful of trademark searches each month and this is the exact process that I work through. This process isn't easy breezy, following it to a T takes a lot of work. In fact, even for me, it's an entire morning project—and I've done a lot of them and like doing them.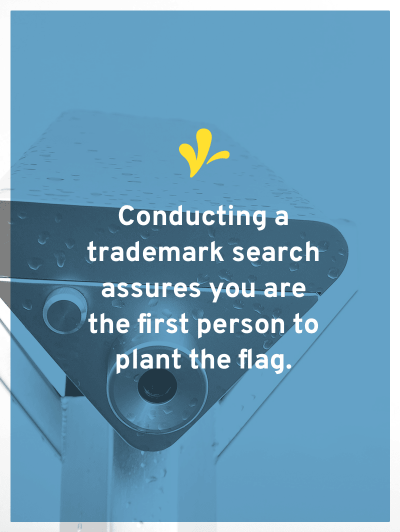 Conducting a search assures that you are the first person to plant the flag—which is key in trademark law. And following it will help you pick a unique name, so you can avoid changing course mid-stream.
I know that there are lots of factors that go into naming other than just doing a detailed trademark search. My favorite post to use when narrowing down a short list of possible names is from Fizzle.
After you brainstorm and settle on a short list of names, you'll do a detailed trademark search on each of them. I've been doing these searches for about seven years. And I've learned that there is an art to doing this kind of search. And the learning curve is steep. Because of that, there is no guarantee that you missed something important. If you want a little support in this process, this is a great time to reach out to the attorney on your team.
Doing a detailed trademark search has three main components. You'll search:
USPTO database
domain name database
your search engine of choice
USPTO Database
I start with the USPTO database because it cuts out all names that conflict with registered trademarks. The USPTO database is searched via the TESS (Trademark Electronic Search System). You can get to the search form by clicking the link in the yellow box here. Once you click that link, you'll be on a page that looks like this: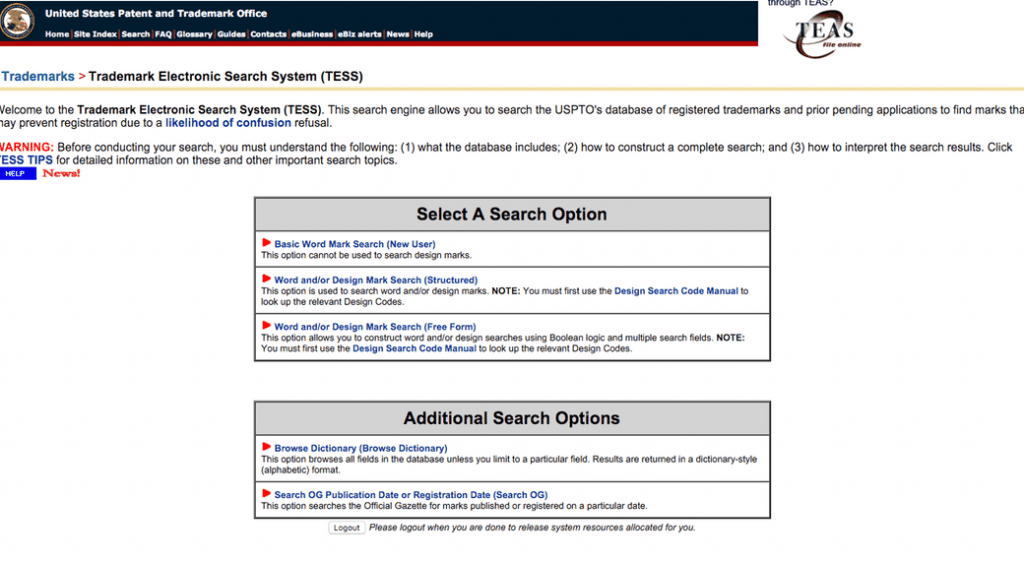 BTW…the fact I can't directly link you to the search page is an indicator how old school this system is. So put on your 1990s Internet thinking cap when you search. And if it helps put you in the mood, put on some good ol' 90's jams.
So now that you are on the search page, you'll select the third Search Option > Word and/or Design Mark Search (Free Form).
You now have landed on a slightly scary looking page that looks like this: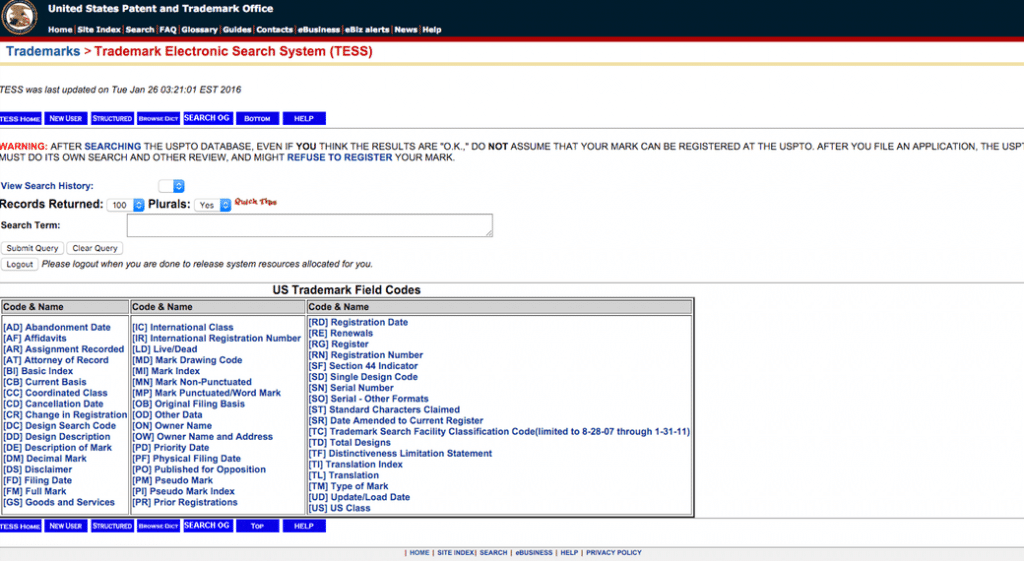 To walk you through the process, I'm going to pretend that one of my potential business names is VEIN & RABBIT. (Thanks, Hipster Business Name generator!)
Direct Matches
Your first search is for the exact business name within quotation marks: "VEIN & RABBIT". If you get any results, then examine each record individually (more on that later).
If you don't get any results, then do the same search without quotation marks. If like in my example, you have an "&" leave it out so you don't confuse the system.
Now usually, this search gives you FAR too many results to be useful. Just like it did here: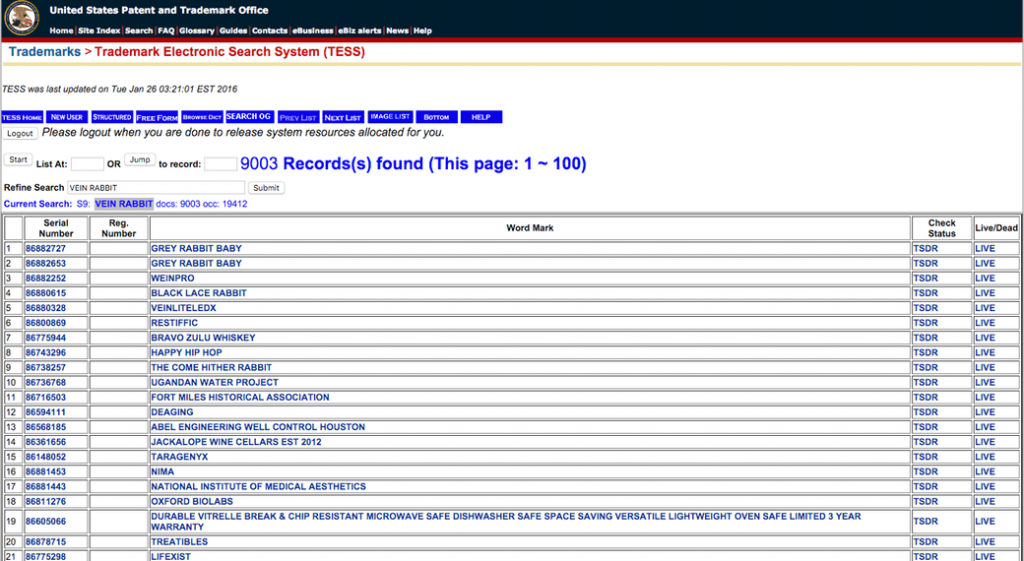 And that's because this kind of search pulls up all records that have either the word VEIN or the word RABBIT. Occasionally this gives you less than 100 results, which is why you should attempt it.
If you get less than 100 results, then review each result using the framework below. If you get more than 100 results, then use the tricks below to narrow your results to around 100. You'll then review each of those results individually.
Similar Matches
Brainstorming similar matches is where the art of a trademark search comes into play. The reason we need to search similar marks is because the legal standard isn't exact matches. The legal standard is that two trademarks cannot create consumer confusion. So here you are going to brainstorm all the possible confusingly similar trademarks.
Obvious Variations
You'll want to search all the obvious variations of our "VEIN & RABBIT" business name:
VEINRABBIT
VEIN+RABBIT
VEIN RABBIT
VEIN + RABBIT
VEIN N RABBIT
VEIN AND RABBIT
A helpful trick: there are couple wildcard characters you can use to make your search easier.
$ replaces one or more optional characters: Searching VEIN$ would result in this: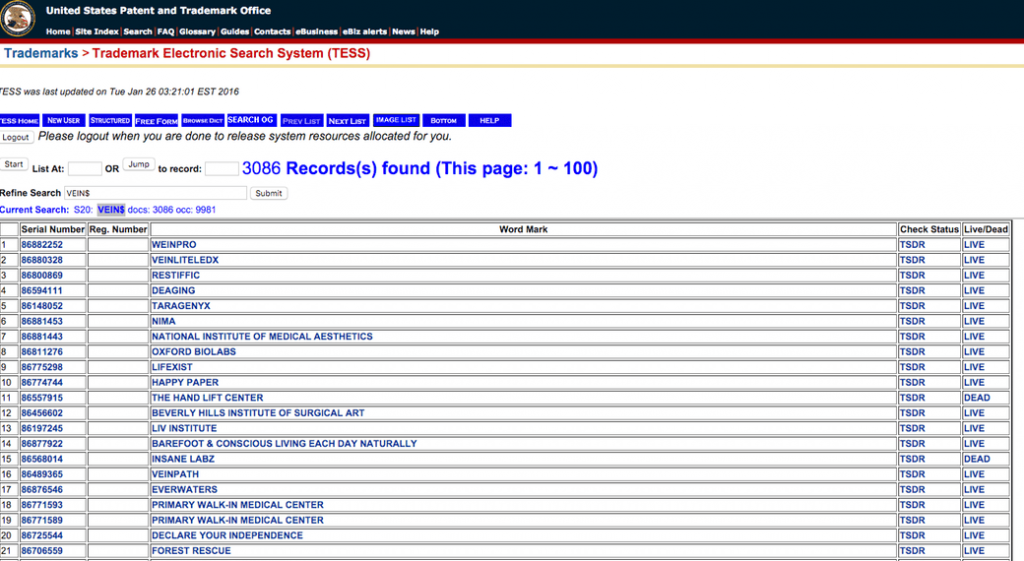 You can also narrow your results further by putting a number after the $. The number you indicate caps the number of wildcard characters. E.g. VEIN$1 means there can be no more than one character after VEIN.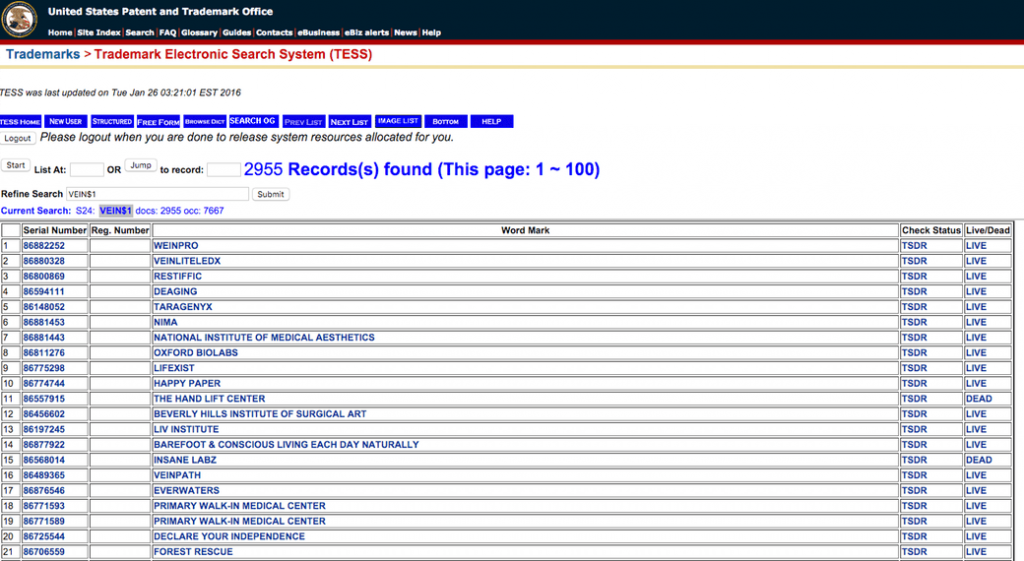 Once again, for each of these searches, you'll narrow your results until you get around 100. And then go through them one by one to see if it's likely that consumers would confuse the two.
Plurals
As you do these searches you'll want to make sure that your search page has the "plurals" box checked. But for some words the plural isn't standard, a mouse becomes mice. If this is the case for either of your words, then you'll repeat the process for all plural variations.
Once again for each search you'll narrow your results until you have approximately 100. And then individually review those results.
Translations
The USPTO policy is that all foreign words are equal to their English equivalent. So if your name contains a foreign word then you might need to search the English translation as well. For example, if my name contained NUIT this translates to NIGHT, so I would use this as an alternative.
Obvious Misspellings and Sound-a-likes
Once we've cleared those hurdles, we are going to create a list of obvious misspellings or sound a likes.
VEIN sounds like VAIN
VEIN sounds like VANE
VEIN is misspelled as VIEN (because i before e except after c or in words sounding like neighbor or weigh…)
Some foreign words also have accepted alternate spellings. If that's the case, then you'll need to search those as well. For example, Koran can be translated Koran, Quran, or Qur'an.
Or if there is a name within your business/product name, are there any variants? For example, is he a Shawn, Sean, or Shaun? (Although if you have a personal name in your trademark, that is a whole other battle.)
There are also all kinds of shorthand translations for different words:
Optic becomes Optix
Easy becomes EZ
You becomes U
Christmas becomes X-mas
Great becomes GR8
Brainstorming a complete list of all the random things that might conflict, is where the art comes in. The more searches you perform, the more crazy trademarks you see. And it helps your brainstorming process.
Once again, for each search, you'll narrow your results and then review them individually.
Partial Matches
The system works on Boolean search logic, which is why I warned you about using the "&" symbol before. So when you have a multi-part name, you'll want to search for the words separately in a string. You could search "VEI* AND *BBIT" to find everything that started with VEI and ended with BBIT.
If you have multiple words in your mark, search a few variations. And then narrow and review those results.
Narrowing Results
When you search, you'll get a large number of results. And reviewing all of them would be time-prohibitive. So you'll need to narrow down the results, without removing any relevant ones. I try to get the list of results to around 100.
My favorite way to narrow the results this is by using the [BI] field code. This code only returns results when your search term appears in the following fields:
word mark
translation
pseudo mark
Without this code, the phrase you typed could appear in these fields or in the:
attorney's name
owner's name
owner's address
So this eliminates those fields that aren't relevant to your decision-making process.
Another insider tip: When you are doing a [BI] search you can use * to replace any number of letters. VEIN*[BI], returns records that contain VEIN followed my any number of characters within specific fields. So rather than our earlier results of 3086, we now have 460.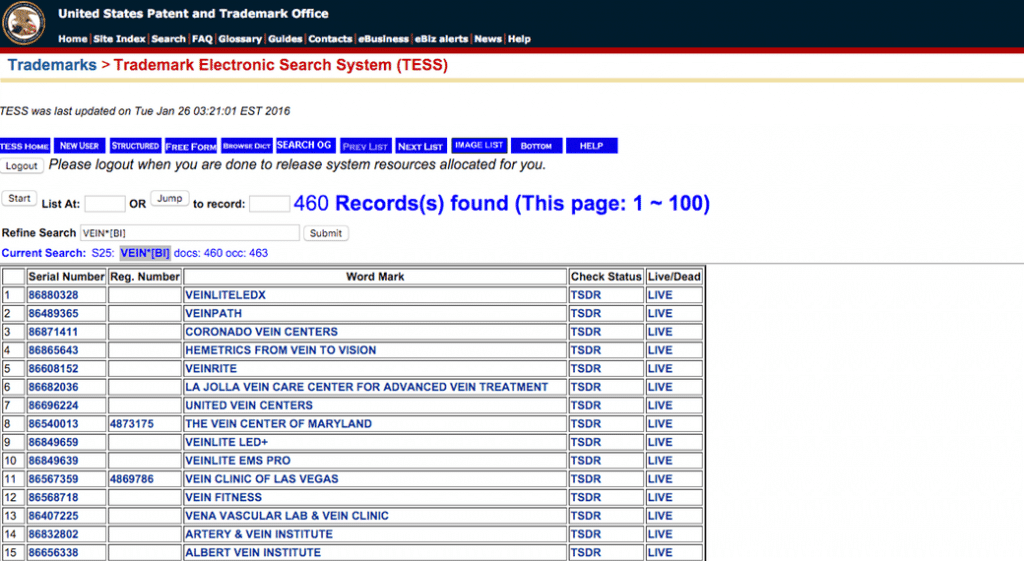 If this doesn't get you down to ~100, then you'll narrow by the type of product or service you'll be selling. It's tempting to only use the International Class that you'll fall in. But remember that trademark protection is extended to related products or services.
Warby Parker started selling glasses online, but if anyone tried to open a brick and mortar, they would have been able to stop them. And that's because it would have resulted in consumer confusion.
Because of you need to consider related products and services, I use the [CC] code to narrow my search. If VEIN & RABBIT was going to make eyeglasses, that falls within 009. By searching 009[CC] we get results for trademarks selling:
eyeglasses (009)
retail locations (044)
services that process glass for eyeglasses (040)
laboratories where glasses are designed (042)
These tools alone or in combination, usually narrow my results to around 100. Once you've done that, you'll need to review each result.
Reviewing your results
At this point, you should have less than 100 results to review. For our VEIN & RABBIT company, our results look like this: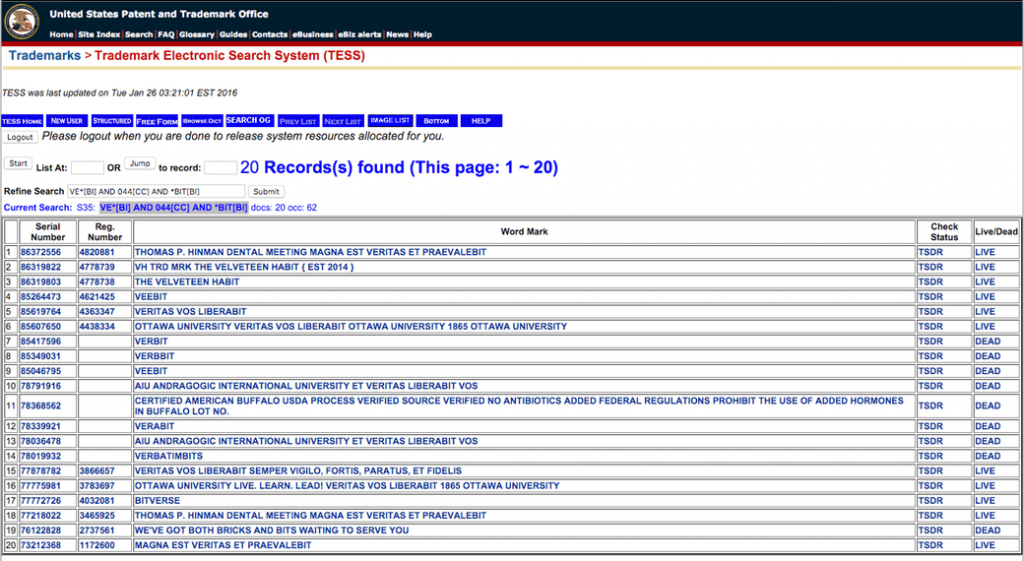 You'll pick the first record on the list and get something that looks like this: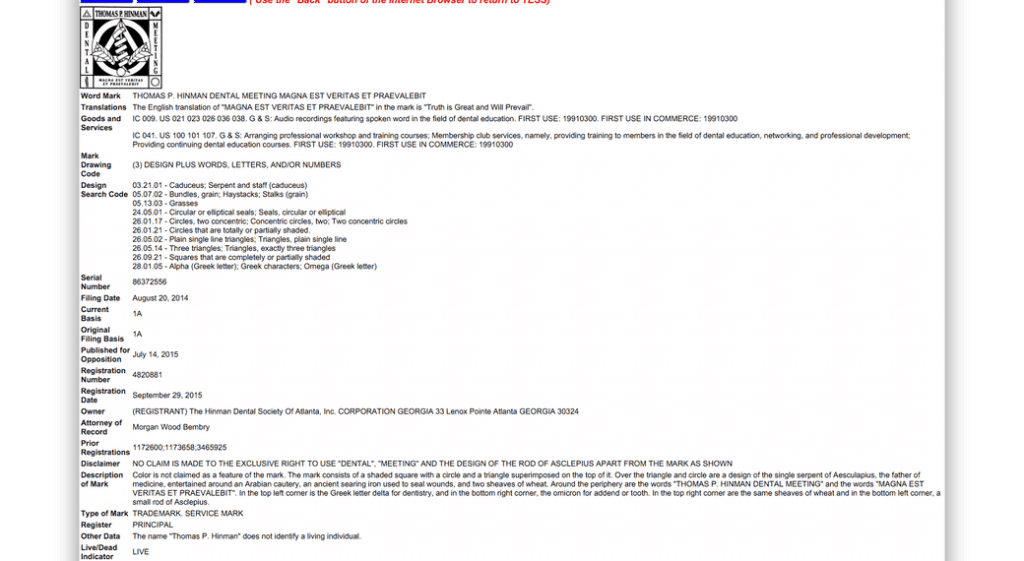 This page will give you all the information on the trademark:
what it is
if there's a logo associated with it
who owns it
when they started using it
what products or services they are using it on
what International Class(es) of Goods and Services they have it registered in
if they are actively using the mark with the USPTO (LIVE = YES, DEAD = NO)
when the trademark was registered
the attorney associated with their application/registration
Using this information, you'll put yourself in the shoes of a busy consumer. And then answer the question, "If I wasn't paying close attention, would I assume these were the same business?"
If your answer is "yes", then you need to cross it off your possible name list. If the answer is "no", then you can move onto searching the domain name database.
(This is a simplified version of the legal test, which is called likelihood of confusion. When consumers are likely confused about the source of a product or service, then the older trademark owner can stop the newcomer. But this question is a good starting point when making this call. Here's more information from the USPTO on what goes into this test.)
Domain Name Database
My domain name database of choice is Instant Domain Search. But there are lots out there. Like we did with the USPTO we are going to search not only for an exact match but also for the obvious variations. So from your USPTO brainstorming list search anything you brainstormed for:
obvious variations
plurals
obvious misspellings and sound-a-likes
If you find that any of the domains aren't available, then hop over to the website. If it is just a parked page, then you might be able to buy it. But if there is an active website, you need to make the likelihood of confusion call.
So once again put yourself in the shoes of a busy frazzled Internet consumer. And think is there anything that would make me think that these are the same business? You'll also think about if you would be okay with not being able to get the .com URL. If it passes that test, you get to move onto our final step.
Searching via Google
Remember, that a trademark doesn't need to be registered to be enforceable. So in your search engine of choice search your proposed name and anything you brainstormed for:
obvious variations
plurals
obvious misspellings and sound-a-likes
Examine the first few pages once again by thinking about possible consumer confusion. Cross off anything you find that might confuse consumers.
Whew!
That covers doing a thorough trademark search. While this process is a total pain, it can save you loads of time, money, and headaches down the road. Because this process helps you eliminate obvious overlaps. And in the process decreases your chances of opening your email to a scary lawyer letter.
Have you done this process? Something similar? What was your experience? Are you going to attempt it for your next product launch? Let us know in the comments.