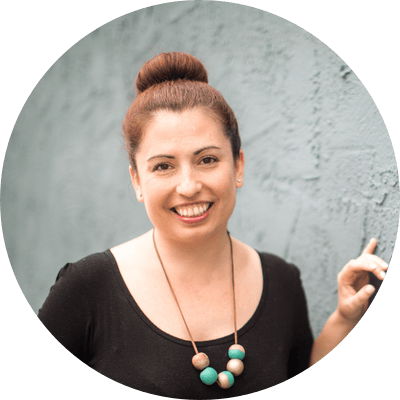 Today, the lovely Sharon Fain is sharing her story with you. Sharon is one of the founders of Academy of Handmade, a community of makers creating sustainable businesses together. Academy of Handmade has some amazing resources on their blog to help makers build sustainable businesses. They also host an Awards Show recognizing makers who create beautiful things and are rock star business owners.
Without diving into the nitty gritty, tell us a little about a time you learned the "legal" ropes…
When I was first starting out in my PR consulting business I didn't really know what to look for yet in a bad client. I figured ones that didn't hassle you about a discount and were okay signing my work agreement would be good enough. Wrong!
I figured ones that didn't hassle you about a discount and were okay signing my work agreement would be good enough. Wrong!
I accepted a client who ran a "luxury" gym and sebemed to be fine with paying me and even gave me some money up front. He paid for my first month's worth of work in a timely manner– no problem. When it came to pay for the second bill he would not return my emails or my calls. And this went on for a couple months.
The amount owed wasn't huge, but it wasn't small either. So I took him to small claims court.
Of course, there was no sign of him at court. And I easily won. But if you know anything about small claims you know that you have to be responsible for getting your money back.
I emailed (and called and wrote) him to notify him that he had lost in court. I got an email back. My first in months. And it was a very nasty one telling me to back off because the business had declared bankruptcy. UGH!
Yuck, that doesn't sound fun, how did you feel at that moment?
I felt like such a sucker for being duped. And then I felt incredibly angry that this jerk was hiring me knowing full well he was probably going to declare bankruptcy.
Did this impact your creative business? How?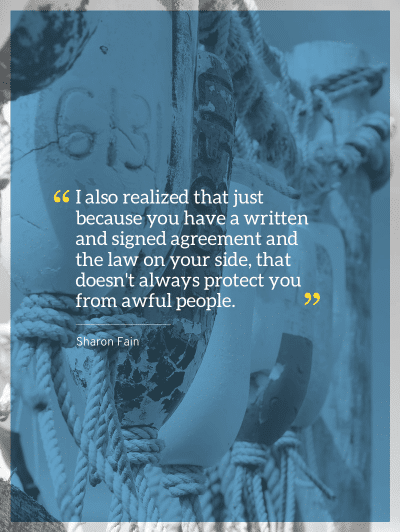 It made me much more cautious about who I took on as a client. I felt like I didn't want to work with someone unless I knew their character or knew someone who could vouch for them.
I also realized that just because you have a written and signed agreement and the law on your side, that doesn't always protect you from awful people.
What ropes did you learn from going through this experience?
Sometimes it's better to just not sue depending on the amount. During this process I had spoken with friends who had gone to small claims with mixed results. One friend essentially had the same experience as me (he won and then never got his money after) and warned me it might not be worth it.
In one way I feel like I should have listened to him. But I also felt like I had the time to go through the process so why not. I have since cautioned people who have had low dollar amounts owed to them to just try to find other means of trying to collect the money because I think unless you are owed the kind of money that seriously prevents you from paying bills, then it might not be worth it.
How can you avoid this?
Attorneys have a phrase that sometimes people or businesses are "judgment proof". What this means is that it will be difficult if not impossible to collect the amount awarded to you. This is often because they lack money but sometimes because they are good at hiding money.
To avoid suing someone that is judgment proof, do a little digging before you go to small claims court. If you find out they lack financial resources, you might:
try to negotiate a lower amount
file anyway if you think they will have financial resources in the next 5-20 years
Why 5-20 years?
The reason that we want to look at the next 5-20 years is based on the length of time that you have to collect your judgment. (You can see what the length is in your state here.) Additionally, most states will allow you to renew it, if you do it before the expiration date. (And you'll be collecting interest the entire time they haven't paid.)
How does this work?
you get a $6,000 judgment against a client in California on January 5, 2015
in California, you have 10 years to collect your judgment, so it lasts until January 5, 2025
in November 2024, they haven't paid so you file to renew your judgment
when you renew, you will enter your judgment for $11,912.20 (your original $6,000 + the 10% interest that California allows you to charge)
you now have until November 2034 to collect your judgment
Note: If they file for Chapter 7 bankruptcy and list your small claims court judgment as one of their debts, it will get wiped out as part of the bankruptcy proceedings. (There are a few exceptions for things like child support, but most likely your business debt will be wiped out.)
Collecting your judgment
Once you have your judgment, you'll have to figure out a way to get your money. There are collection agencies that specialize in collecting small claims court judgments. If you want to avoid the headache of collecting, they'll take it off your plate for a fee. If you want to collect it yourself there are three methods. You can seize money:
from their bank accounts (legalese: bank levy)
when they sell their home or other property (legalese: real estate lien)
from their paycheck if they are an employee—even if they are an employee of their own company (legalese: wage garnishment)
Dealing with clients that haven't paid is never fun. Which is why I always recommend getting as much money as you can up front.
What do you do to make sure you get paid by your clients? Share your tips and tricks in the comments.
Want to connect with Sharon? You can read more about how she's supporting a thriving handmade community on the Academy of Handmade website, or connect with her on Instagram.