I'm sure your email inbox is insane too. And because I like to close each day with Inbox Zero, I'm hyper-aware of who I do and don't allow into my inbox.
And at least once a week an email lands in my inbox that makes me frustrated and irritated. The sender of these emails is always different. But they have one thing in common: they added me to their newsletter rather than letting me opt-in.
This is one of my biggest pet peeves. And every time this happens, I do the same thing. Open the email, scroll to the bottom and hit unsubscribe. Sometimes this makes me a little sad because I love the work that the person is doing.
Do you ever automatically add any of these people to your email list?
customers upon purchase
people you meet at networking events or conferences
people who drop contact information in a prize bowl at a show
people who email you about potential services
people who attend your workshops or classes
If so, then you might have triggered similar behavior in those people.
I know it's way easier to import a list of names to MailChimp, rather than sending individual emails asking people to join your list.
And when you import/add them the size of your list will automatically jump up. Because we all know that if you ask people to subscribe, not all will.
But what's the value of having someone:
on your list that hasn't asked to be there?
that's there by default?
that lets your messages sit unread in their inboxes?
that deletes every message you send?
And what's the harm you are doing by pissing people off?
Some people try to point to the CAN-SPAM Act for why you can't do this. But the CAN-SPAM Act doesn't prohibit this.
But there is a reason why you can't do this. Because it's against the terms of service of your email newsletter service provider.
On top of that, you definitely aren't complying with the spirit of permission-based email marketing.
So how do you keep your email marketing on the up and up?
Follow CAN-SPAM Act requirements
You must follow the CAN-SPAM Act whenever sending emails containing commercial content. And this law applies both to messages sent to individuals and businesses.
To decide if the law applies, you have to figure out the why behind sending the message. According to the law, there are three categories:
commercial
transactional
other
Commercial
Your message is a commercial message, according to the FTC, if your why is to:
advertise or promote a product or service or to direct people to a business' website
And when you have a commercial message, you must follow the requirements of the CAN-SPAM Act.
Transactional
Your message is a transactional message, according to the FTC, if your why is to:
update or help a customer with a new or ongoing transaction
Examples of this include:
providing a purchase confirmation
delivering the digital download purchased
providing a receipt
providing information on a product's warranty
gives information on changes in terms or features
for memberships, subscriptions, or loans providing account balance information
gives information on account balance
If you have a transactional message, you are exempt from most of the CAN-SPAM Act requirements. Except for providing a valid reply email address.
Other
If the why isn't one of these, then you don't have to follow the CAN-SPAM Act. (E.g. emails you send to friends and family.)
What about mixed messages?
Often in our businesses, we send messages that have more than one why.
For example, if a customer purchases a product and you send a shipping confirmation but also encourage them to head to your website to see how other customers are using the product.
In that case, you've sent both a:
transactional email (shipping confirmation)
commercial email (directing them to your website)
If your message contains more than one why assume that the CAN-SPAM Act applies and follow the rules.
What the CAN-SPAM Act prohibits
The CAN-SPAM Act only requires that you:
not use a false or misleading subject line
give them the option of opting out
identify your message as an advertisement
provide a valid reply email address
provide a postal mailing address
What you should include in every email marketing campaign
So that your email complies with the CAN-SPAM Act double-check that each of these is included in your template:
your name/business name
postal mailing address
valid reply email
unsubscribe link
Additionally, when you send your campaign you'll want to make sure that your subject line accurately reflects what's included. Not only is this a requirement under the law, you don't want readers to feel like you pulled a bait and switch on them.
And yes, a valid postal mailing address is a legal must. If you want to protect the privacy of your home address, make a small investment and rent a P.O. Box or a Private Mailbox.
Follow the rules of your email service provider
When you created your account with MailChimp, Convertkit, or the like, you agreed to follow their terms of service. And if you violate them, they have the right to cancel your account.
MailChimp
MailChimp's Terms of Use and Acceptable Use Policy require you to:
not send Spam (which they say is unsolicited bulk emails)
not use purchased, rented, or third-party lists
not send offers to sell illegal goods or services or pornographic/sexually explicit content
follow the CAN-SPAM Act
not be in specific industries, including affiliate marketing and multi-level marketing businesses
have proof that each subscriber consented to emails from you
only include photos, text, or other content that you've created or have permissions to
not use misleading names, email addresses, addresses, or other information
Convertkit
Convertkit subjects all accounts to an "approval process" where they have the right to deny your account for any reason.
In their Approval Process and Inappropriate Use policy they say you cannot:
use purchased lists
use lists of subscribers that did not explicitly opt-in
violate the CAN-SPAM Act
be in an industry Convertkit perceives to negatively impact delivery
send low-quality content
use list collection methods that result in poor performance
Some of these are very subjective. So if you use their service, you should watch open and click-through rates to make sure you won't be flagged.
How can you add people to your list?
So how do you follow these rules and add people to your list? What do you do when you go to a show or event and collect a bunch of email addresses? Or how do you add that amazing potential client you met at a conference?
get permission to send them a single email (e.g."Write your email information here and I'll send you a coupon for free shipping!")
send them a single email with what you promised and a call-to-action asking them to join your newsletter list with a link to your signup page
never bug them again if they don't sign up
If you've got more than a few of them, you might want to use your email service provider to send this email. (And, since you've asked for permission, you can use their service.)
But, since your permission is limited you can only send them a single email.
How you'll do this is by adding them to a separate list (in MailChimp) or tagging them (in Convertkit). And then send them the single email you promised. And deleting them if they don't sign up in the next week or so.
And it's best practices to email them individually if you've only got a handful of them or if you collected a long time ago. (AKA Send them an email via Gmail.)
(If you send a one-time group email via Gmail, please make sure to bcc: the recipients. Otherwise, people will be pissed that you revealed their email address to a bunch of strangers.)
Regardless of how you do it, here's my template you can customize:
Hi:

It was great meeting you at [NAME OF THE EVENT]. I promised you [WHAT I PROMISED], so here it is!

Each Thursday, I send out an email to creative business owners like you. In it, I share my knowledge and experiences on building a thriving creative business. Each week, you also get the chance to vote on which question I'll answer during my Friday Facebook Live series! My goal is to be your friendly legal eagle helping you create your own path to success, however, you define it.

If you'd like to get these updates you can sign up here.

Have a lovely week!

Kiff
Take the next step
Create your own path and confidently take your best next step by:
Creating a canned response that explains to people the value of your list and how to sign up. You can use my example above as a starting point!
Send your canned response to any testimonials you are currently using that you don't have an electronic paper trail for!
Creating a dedicated newsletter landing page that explains what value your list provides and gives them a place to sign up. What might that look like? Here's mine.
If you follow this method will you have a fewer number of people subscribe? Yes, but numbers are the end all be all.
What's the point of that person on your list that deletes every single one of your emails? Or the person who feels like you are spamming them?
You want people who are excited when they see your newsletter in their inbox. Who open each one and look forward to the next one.
What strategies have you used to ethically and legally build your list? What changes are you going to experiment with to comply with the spirit of permission-based marketing? Share your insights below.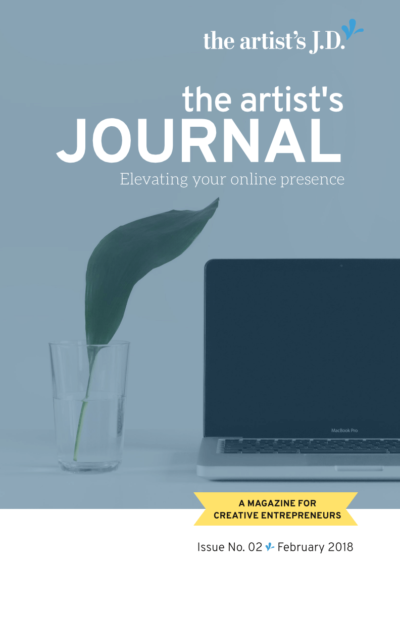 Grab your PDF copy of the artist's Journal Issue No. 2!
So you can read, learn, and apply on your own terms.
This article is just one of 8 articles included in Issue No. 2 of the artist's Journal. This issue is jam-packed with articles and resources designed to help you elevate your online presence (while staying on the up and up)!
Your privacy is important to us. Learn how we protect it here.