I'm sure your email inbox is insane too. For the past few months I've been on a mission to be in charge of my email inbox, rather than it being in charge of me. I am far from accomplishing this mission; every day is a battle and some days the inbox wins.
Because taming this beast has been at the top of my mind, I've been hyper-aware about what appears in my inbox. And at least once a week an email lands in my inbox that makes me frustrated and irritated. The sender of these emails is always different, but they have one thing in common: they added me to their newsletter list rather than letting me opt in.
I've learned the past few months that this is one of my biggest pet peeves. Each time this happens, I immediately open the email, scroll to the bottom and hit unsubscribe. Sometimes this makes me a little sad, because I love the work that the person is doing. I really wish that instead they had sent me an email like this:
Hey Kiffanie!

I was just looking over my newsletter subscribers and realized that I didn't see your name! I send out emails to fans of my work about once a month. In them I give you an insider look at what I'm working on, the techniques and tools I'm using, and something new I've learned. My goal is to give you something beautiful in your inbox and put a smile on your face. If you'd like to get these updates you can either hit reply and let me know or sign up here: bit.ly/subscribe.

Have a lovely week!

Amazing Visual Artist
When I get emails like this I often subscribe and welcome them into my inbox. But it frustrates me when you take that choice away.
As someone with a newsletter list, I know it's way easier to import a list of names to MailChimp, rather than sending 50 personalized emails in Gmail. And when you import you'll have 50 new subscribers. When you send emails, not everyone is going to opt in.
But what's the value of having someone on your list that hasn't asked to be there?
The value of someone that's there by default?
The value of someone that lets your messages sit unread in their inboxes?
And what's the harm you are doing to your business by pissing off people like me?
What the CAN-SPAM Act prohibits
Some people try to point to the CAN-SPAM Act for why you can't do this. But the CAN-SPAM Act doesn't prohibit this. The CAN-SPAM Act only requires that you:
Not use a false or misleading subject line
Give them the option of opting out
Identify your message as an advertisement
Provide a valid reply email address
Provide a postal mailing address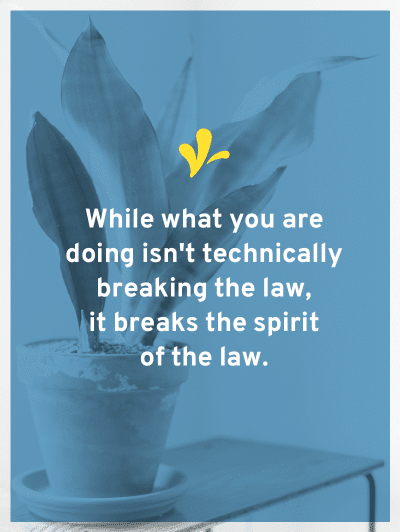 Which means that the CAN-SPAM Act isn't the answer. And while what you are doing isn't technically breaking the law, it's breaking the spirit behind the law.
What you are doing isn't technically breaking the law, it's breaking the spirit behind the law.
What actually prohibits you from doing this
What prohibits adding people to your list without asking is the terms of service of your newsletter provider. MailChimp requires that you only add people to your list that have given explicit permission. So by adding people who haven't given you explicit permission, you are breaking your contract with them.
Will your newsletter list grow slower this way? Yes, it will. But it means that you are legally and ethically growing your community.
I'm lucky to have a community of people who give me great suggestions on how to grow my list. My favorite suggestion was from Arianne Foulks. She reminded us that when we have excited subscribers, they open our emails and interact with them making it fun and easy to engage.
And I think this is the key. Our goal should be to build a community of people excited to hear from us. Building a community that we are having a conversation with, not broadcasting to.
How you can easily apply this today
Create a canned response that explains to people the value of your list and how to sign up. You can use my example above as a starting point!
Create a dedicated newsletter landing page that explains what value your list provides and gives them a place to sign up. What might that look like? Here's mine.
What strategies have you used to ethically and legally build your list? Share your experiences in the comments.