Over the past few weeks, there has been a lot of Internet discussion (and hopefully discussions over food) about appropriation art.
These discussions can all be tied back to a single man, Richard Prince. This is not the first time that Price has been in the limelight over his work. And he has long been known to toe the legal line when it comes to creating his work. If you haven't heard about the latest controversy involving him, you can read about the exhibit here.
I'm not going to get into the weeds about what Prince is doing from a legal standpoint. (If you want that, you can read a good discussion on Fstoppers.) I'd rather explore a concept that I think has the potential to impact each of us:
What's the impact of someone reposting your Instagram images?
Reposting content within Instagram
When Instagram started users shared little moments of their life with their network. But like all social media platforms, this has shifted. And now many of us use it as part of our overall business and marketing strategy.
As this shift has occurred, there also has been a shift in what is "acceptable" to post on your own feed. When I started using Instagram in 2012, there was no such thing as Sponsored images and reposting other people's content wasn't a thing. (Psst…if you'd like to connect, I'm @theartistsjd.)
But now when I scroll through my feed, I see a mix of original content, Sponsored content, and re-posted images.
It is a violation of Instagram's Terms of Service to post someone else's content without permission. But we all know that very few people understand or follow terms of service.
Yet there are positive (and negative) impacts that this kind of content can have our businesses.
If you post an image using a Design*Sponge hashtag and they re-post your image, that can be amazing. You'll probably get a whole host of new followers and potential buyers from it.
If a scraper feed screenshots one of your images and posts it like it's their own, this does nothing for you.
If someone uses a third-party app and credits you in the image itself but doesn't tag you, this does little for your business. Because we all know most people are lazy and aren't going to search for your username.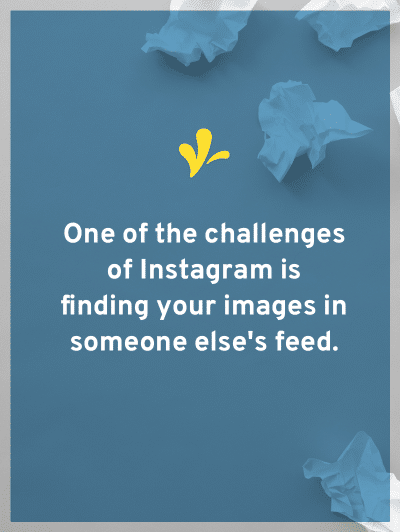 One of the challenges of Instagram is finding your images in someone else's feed. (That is unless they tag you.)
My understanding is that this difficulty is because of a couple issues related to the Instagram API.
The first reason is related to the way reverse image searches (like Google Images and Tineye) work. My understanding is that these services can only index an Instagram user's photo stream if their account is:
public
if the user has granted permission via a web-based application
Which means that most users' streams are not indexed.
The second reason is related to the cost of developing these searching capabilities. For example, ImageRights assists photographers in obtaining licenses for unauthorized uses of their photographs. Services like ImageRights make their money by taking a cut of the license fee that they get for you.
But most unauthorized social media uses are for personal use. These personal uses have a low licensing fee, and, as a result, the service's cut would be small. Because of this, they have no financial incentive to build these search capabilities into their service.
Which means that the burden shifts back to you as a business owner to decide what content you post on your feed. You must post with the knowledge that it might be used without your permission and you might never find out about it. So you must make the gut call about if this is or isn't an image you want to post.
You must post on Instagram with the knowledge that it might be used without your permission and you might never find out about it.
(BTW..If my research is wrong and you know of a tool for finding your images on Instagram, let me know!)
Reposting your content outside Instagram
Luckily, if someone takes a screenshot of your Instagram image and posts it somewhere else on the Internet, you have a better chance of finding it. 
Of course, you still have to make the call about what you can, can't, and maybe shouldn't do about it. And if you can do something about it, if it's worth your time and effort.
I've said it before, but I think the rule still applies:
You should only post content on the Internet that you are okay with someone using without your permission. Because if it's good, it'll happen sooner or later.
Now that doesn't mean I think you should roll over and let someone trample your rights. I think you should stand up for yourself when you can and it's worth the time, energy and effort.
But I also understand that trying to track down every unauthorized use would require a full-time employee. And you've got better ways to spend your business resources. 
Ultimately, I think that means the burden falls in your court. And requires you to thoughtfully post on social media. And only doing so after considering the potential impacts to your business.
Do you think before posting an image on social media? Why or why not? Will you now?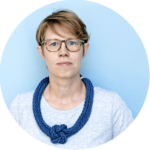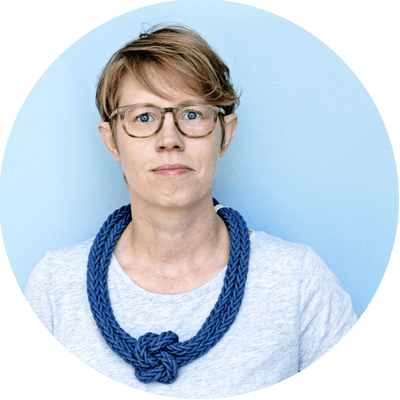 Hi! I'm Kiff! I believe that you can have ease in the legalese of running your creative business.
Each week, I send out an email to help you confidently strengthen your business' legal foundation by sharing my experiences and knowledge.
Get tips from your friendly legal eagle…
Your privacy is important to us. Learn how we protect it here.