One afternoon you are hanging out with your family. Music is playing in the background and you are all enjoying yourselves. When a Taylor Swift song comes on your adorable daughter starts dancing and singing along.
It's just all too cute so you whip out your phone, take a short video of it, and post it online. You get lots of likes and comments that afternoon, but after a couple of weeks you forget about it.
Then you get an email. The email tells you that your video has been removed. And that it was removed because someone submitted a DMCA takedown notice.
This is pretty much what happened to Stephanie Lenz in 2007. Stephanie posted a video of her 13-month-old son pushing a toy while a Prince song was playing. (Click here if you want to see the video.)
In a David v. Goliath fight, she pushed back against the record company. And with the support of Electronic Frontier Foundation, she sued them. The heart of the lawsuit was if it was appropriate for them to submit a DMCA takedown notice on her video. And last month, the court agreed with her that this was a misuse of the DMCA takedown notice procedure.
The court said that before sending a DMCA takedown notice you must consider fair use.
What is fair use?
To determine if something is or isn't fair use we want to examine:
the purpose and character of the use, including whether such use is of a commercial or non-commercial purposes
the nature of the copyrighted work
the amount and substantiality of the portion used in relation to the copyrighted work as a whole
the effect of the use upon the potential market for or value of the copyright
Fair use is one of the most complex copyright topics. Which is why I created a visual process that breaks down fair use.
So what does that mean for you?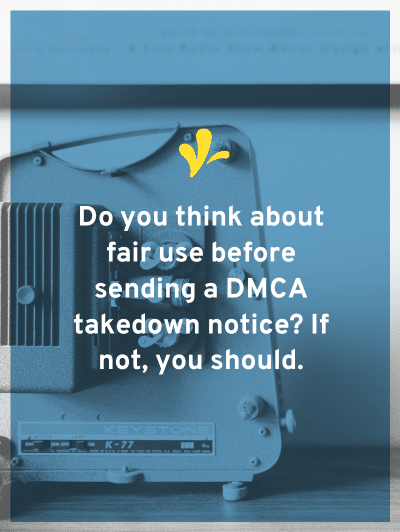 I've always encouraged you to think about fair use before sending a DMCA takedown notice. But now you are required to.
Which means you've now got one extra step before hitting send. And that is evaluating if their use of your content is likely fair use.
This analysis doesn't need to be complex. It could be a:
simple worksheet
column on your DMCA takedown notice tracking spreadsheet
email to yourself/team member
note in Evernote
You just need to write down why you don't think this particular use is fair use.
5 steps to sending a DMCA takedown notice
This means you should update your DMCA takedown notice system to include these five steps:
determine if their use is likely fair use and if not, write down why you don't think it is
take screenshots of the infringing site
locate the website's host
determine the Copyright Agent
draft your takedown notice
Get a DMCA Takedown Notice Letter Template
Want help making sure your DMCA Takedown Notice includes all the required elements? Hit a roadblock completing these four steps?
Then join us in the artist's Courtyard and not only get a Google Docs DMCA Template but get access to a private 24/7 community of creatives and a library of 20+ checklists, templates, and quick videos helping you run your creative business professionally + legally.
---
There is one primary reason for documenting your analysis: money.
If you fail to record why it's not fair use and submit a notice, you might be responsible for a big fat bill. And that is because you might have to pay the attorney fees for the person you submitted a notice to.
How you can easily apply this today
Read this article to help you get a better handle on what is and isn't fair use.
---
Got questions about this post?
---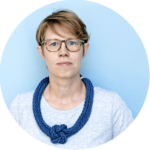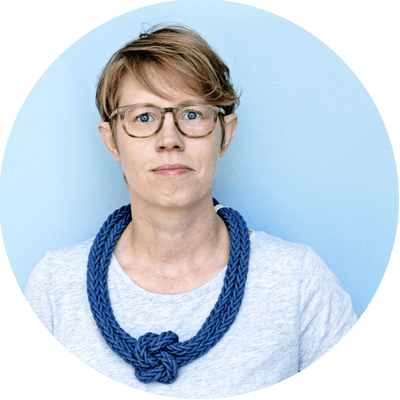 Hi! I'm Kiff! I'm your friendly legal eagle (and licensed attorney).
I'd love to pop into your inbox to help you cut through the red tape and share how there can be ease in the legalese.
Get tips from your friendly legal eagle…
Your privacy is important to us. Learn how we protect it here.