the artist's Courtyard Resource
Create a Contract Course
Get access to a course designed to help you finally ditch the annoying, selfish clients. By creating a contract that you (and your clients) love.
When I was in law school, I worked at a small firm. And I was lucky enough that they let me take the lead on client projects. Of course while being supervised by an experienced attorney.
One of the first projects I worked on was updating a contract for a client. He was a commercial photographer doing dozens of shoots a month. And each shoot had different licenses, timeframes, payments, and distribution of responsibilities.
So, before I dove into the contract, I asked my boss if we could schedule a Skype chat with him. And during our chat, we could hear what was and wasn't working with his existing contract.
(The story of telling my supervising attorney how Skype worked is a story in and of itself! Let's just say he wasn't the most tech savvy guy.)
During our Skype chat, the photographer told us the story of how for at least two months, his assistant didn't update the social media rights section of the contract. And it wasn't found until a client pointed it that that section didn't match their discussions. Which is also when he realized it was wrong on several contracts.
He also told the story of how his assistant wasted hours coordinating shared responsibilities with a client. Because while it was in the contract, the client hadn't seen it.
After talking to the photographer, it was clear that while his contract was three pages, important details were being missed.
So, I sketched out a new format. One where the cover page included all the information the photographer (and his clients) cared about. And included all the information that changed from project to project. With the remaining pages containing the legal nitty-gritty.
I knew that this format would make it easier for:
the photographer (and his team) to remember where the contract needed updating because it was all on the first page
his commercial clients because they could quickly find what they cared about
So, I updated his contract according to this format. And then sent it off to my boss for review.
The next day, I was called into my boss' office. He started chewing me out and I was flabbergasted. He told me that he didn't know what they were teaching me in law school, but that this wasn't how contracts looked.
He told me my assignment was to update sections of the contract. That it wasn't to create some harebrained contract format. And I needed to go back to the old contract and update the sections that were no longer working for the client.
I knew that this format was better for the photographer. And I wasn't giving up, so I started arguing everything I could. I tried:
that a contract isn't effective if our client doesn't update certain sections
that our client is getting a bad deal if he doesn't update the contract to include the right license
that we shouldn't be making it harder for our client to run his business because that's how "contracts" look
that contract format isn't a legal rule, but an archaic standard
But he was the boss and I lost. And the photographer got a contract that had two huge issues that he was hoping to fix. All because contracts are "supposed" to look a certain way.
When I started my own law firm, I knew that I would create contracts that worked for my clients, not matched some silly archaic format.
And my format starts with a cover page. On this cover page, I list out all the important things:
the names and contact information of all parties
how long the contract will last
what is being exchanged
schedule
timeline
deliverables
any restrictions on the use of deliverables
I then use the rest of the contract to cover the nitty gritty legal stuff. (Want to get ideas on what topics you should cover in the nitty gritty legal stuff? Click here to read the post or enter your details below!)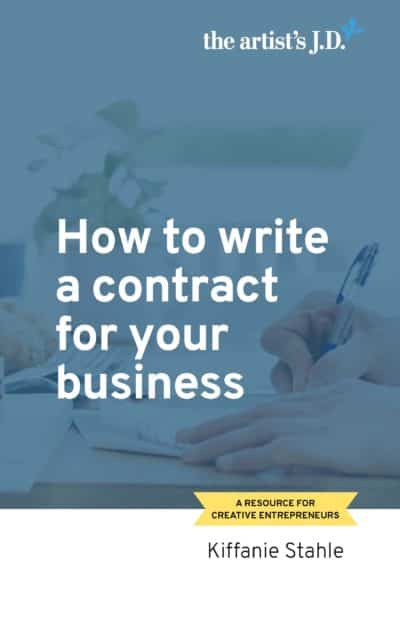 Write your contract!
Curious what your contract should include?
Enter your information below to download a PDF version of my how to write a contract resource. It includes a checklist of the 17 sections I think you should consider when creating (or updating) your contract.
Your privacy is important to us. Learn how we protect it here.
And this format I taught in the contracts master workshop. Because it makes both your life (and the lives of those you are working with) easier.
the artist's Courtyard Resource
Create a Contract Course
Get access to a course designed to help you finally ditch the annoying, selfish clients. By creating a contract that you (and your clients) love.