I'm pretty cynical when it comes to reading blogs or scrolling through social media. I see a post where a brand is featured and I automatically assume it is sponsored content.
While this isn't a revenue stream for my business, I don't fault anyone for utilizing it. If it works for your brand, more power to you. But if you are utilizing this revenue stream you have a legal and ethical responsibility to let your audience know that the content is sponsored.
It's your job to make it very clear to visitors if you are being compensated for that bonus, link, or post.
Legal Side
The FTC has created the rules that you need to follow to make it clear that this content is sponsored. And these rules are pretty common sense when you think about them from the consumer's standpoint. You are just trying to make it clear to your audience that you are getting a kickback in exchange for your review, comment, post, or link.
These rules outline four things you must do to comply:
Placement: You can't hide the disclosure in the footer. It must be conspicuous and obvious to website visitors.
Action: You can't require visitors to take extra steps to read the disclosure (e.g. no click-through links).
Clear: Visitors must easily know that you are getting paid in exchange for website placement.
Timing: You can't just tell visitors once. Disclosures must be on every post, social media interaction, link, or comment.
The mnemonic that I created to help me remember what you need to do is PACT:
You make a PACT with your audience to be transparent about your income-generating relationships.
How do you keep your PACT?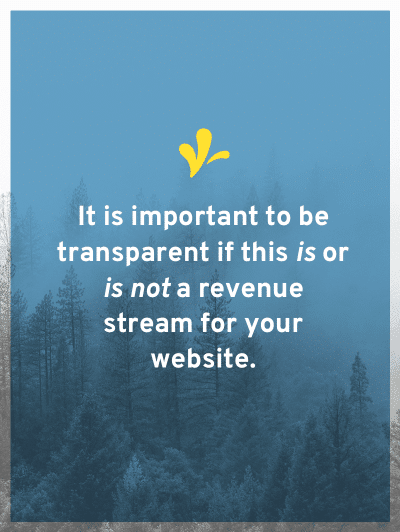 One simple solution is adding the text [affiliate link] after any text or image link. Or having a standard blurb that goes at the top of each sponsored blog post.
This post was made possible by a sponsorship from [BRAND NAME (with link to brand)]. But, all opinions and reviews are my own and this product/service wouldn't be featured if I didn't think it could help you.
A good example of this is the blurb that Victoria at sfgirlbybay uses.
Another example is Artlicensinginfo.com. (I used this site in Part II of the videos on welcoming visitors to your virtual home.)
What you shouldn't do is include text like this at the top of your post:
This post might contain sponsored/affiliate links. Click here to learn more.
I see this all the time, but it's breaking your PACT. Why? Because you:
Aren't clear in telling me if this exact post is or isn't sponsored content
Require me to take action by clicking through to learn the answer
Ethical Side
So, I get it, right now the FTC isn't going after your average blogger for failing to include this information in sponsored content. But that doesn't mean that you shouldn't do this.
You should comply because you don't want your audience to feel duped.
You don't want someone in your audience to lose respect for you and stop following you because they later learn that you promoted something because you were getting paid to do so.
Most people don't care that you are generating money from this content, but they do care if they feel like you duped them.
So you should create simple guidelines (and follow them) for two reasons:
When the FTC starts cracking down, it won't be added stress or additional work on your part
You won't lose followers, but instead, reinforce their trust in your brand
Are you keeping your PACT with your visitors? Share how below or how you plan on improving.