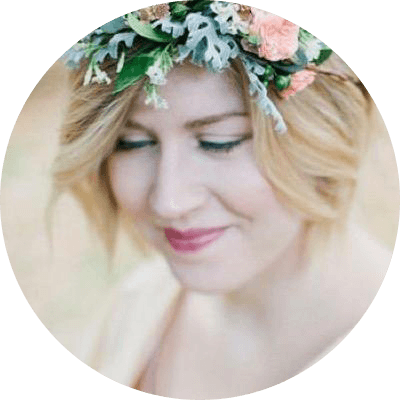 Jordan Brantley and I have never met IRL, but we've got one of those serendipitous online friendships. We both were watching and tweeting along to one of Tara Gentile's CreativeLive classes. I can't remember which of us started the conversation, but we connected that day. And after a few Twitter conversations, we started exchanging emails. Which lead to drinking coffee over Google Hangouts. Then I guest posted on her blog, and today she's returning the favor and sharing a story with you.
Without diving into the nitty gritty, tell us a little about a time you learned the "legal" ropes…
I started a blog about four years ago called Create Like Crazy. It began as a creative outlet and an opportunity to collaborate with creative friends, but ended up helping design clients find me as well! I decided to move my design business under the same umbrella and began doing business under the Create Like Crazy name. Since the blog started as a hobby, I never did the proper research to know that the name I was using was actually trademarked by Target!
Since the blog started as a hobby, I never did the proper research to know that the name I was using was actually trademarked by Target!
Yuck, that doesn't sound fun, how did you feel at that moment?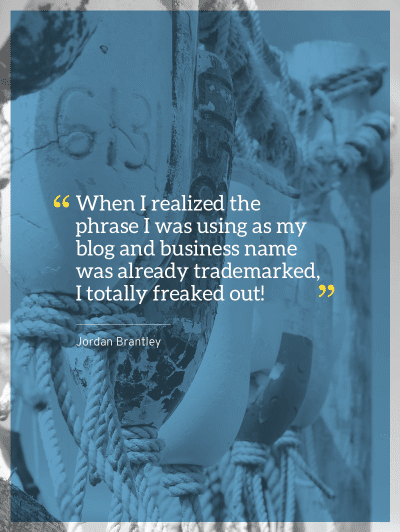 When I realized the phrase I was using as my blog and business name was already trademarked by Target I totally freaked out! Once the freak out calmed, I was pretty bummed that I'd need to start over under a different name.
Did this impact your creative business? How?
Starting over was definitely difficult. I had to rebuild brand recognition so it took a while for steady business to build again. There were also pros to rebuilding and redefining, but I always try to remind my clients and friends to do the proper research before launching their business!
What ropes did you learn from going through this experience?
Always do the research – never assume.
How can you avoid this?
No one wants to be in Jordan's position of starting a business and then having to start over. You want to keep building momentum and a reputation, not start over from scratch. But sadly, Jordan's story is more common than you would guess. I've heard many similar stories. And lots of them involve a nasty lawyer letter—and that's something every business owner hopes to avoid.
You want to keep building momentum and a reputation, not start over from scratch.
One of the most common mistakes that result in having to switch gears is failing to dig in and do a little research. This research in legal lingo is called a trademark search. When you do your research, you should remember a couple of things:
registration is not required for a trademark
trademarks are limited to what they are being used on + related things
Registration is not required
Unlike copyright, you don't have to register your trademark to enforce it. I like to call trademark law the rules of the playground. The first person to run to the top of the hill and plant the flag is the king. And as long as they keep their flag up there, they remain in control.
So while you should search the USPTO database, that's not the end of your search. You still need to search Google to see if someone is using it, but hasn't registered yet. Because a trademark owner is the one that starts and continues to use a trademark—registration or not.
Exact products or services + related ones
There are a lot of potential products and services that businesses could create. Because of that, getting a trademark doesn't mean you are the only one that can use it for any product or service.
When you go to register your trademark, you must tell the USPTO two things:
A trademark only protects the exact of products and services that it's being used on. You also usually can extend your trademark to related products or services. For example, when you hear Delta you might think of a:
water faucet company
dental insurance company
airline
Each of these companies is using Delta as a trademark. And they can co-exist because a consumer wouldn't think that they came from the same company. But Delta the airline would be able to stop companies from using the term Delta for a:
travel agency
airport car service
another airline
And that's because they are related, which might confuse consumers. If consumers might be confused if the same company is behind it all, then the trademark owner can stop the use. Which means when you research you must look for both identical and related products and services.
And this research isn't limited to selecting your business name. You'll also need to check this for all of your product and service names. And doing this research early means that you don't start building a brand only to have to scrap and restart.
Jordan probably avoided a nasty letter because her services weren't related to the Target trademark. (In fact, depending on how Target was using it, she might have been able to keep the name.)
Have you ever had to switch gears because you found someone with a similar name? Share your story in the comments.
Want to connect with Jordan? You can learn more about her creative agency here. Or hop over to her Instagram account to see photos of her adorable daughter June Capri.