Likely one of your biggest business fears is waking up to an inbox full of emails letting you know that someone is selling a knockoff product. It's enough to derail your entire month and send you into a rage spiral. And you'll consider a host of ways to retaliate:
shaming her online
getting a lawyer to put her in her place
sending her an angry email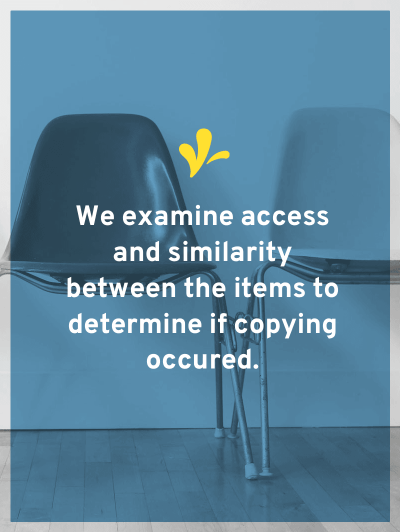 This "Kiff Says" video was inspired by a question from Desiree:
What can you do if you created and designed an item and some time later you see a very similar item on the Internet? Does it matter if you don't think they copied you?
The short answer is it's possible for two people to independently create the same thing. And if this did happen neither would be able to stop the other because there was no copying.
If two people independently create something no copying happened, so both can continue.
But what happens when you think that someone did copy you?
As the video explains, we look at access and similarity between the two items to determine if copying did occur.
Access
When it comes to access, this can be simple.
Were they your employee and worked with the product?
Did you post it on Instagram and they liked the post?
Are they on your email list and they opened the email that had the product?
Substantial Similarity
However, substantial similarity is a little trickier. And in true legal fashion, the test to decide if two items are substantially similar varies depending on where you live in the United States. I won't bore you with the details, but if you want to see what I mean, you can read about it here. The short version you examine if the copyrightable elements are so similar that copying is the only explanation.
You examine if the copyrightable elements are so similar that copying is the only explanation.
What next?
If you can show access and substantial similarity, then the next step is deciding if they took enough of the work that it rises to copyright infringement.
If you can't show access and substantial similarity, then you can't stop them. And this is because there is no infringement on your work. As the video explains, this is more likely to occur when you aren't creating your work from scratch. For example, when you create your products using source components that anyone can purchase.
If you do find out that someone copied you, do you know how to calmly handle the situation? If not, then you might want to check out my guide to stopping Internet copycats. It's jam packed with all the tools, resources, and action plans you'll need to stop them in their tracks.
Now I'd love to hear from you. How similar is too similar? What are the kinds of things you look for when deciding if someone has created a knockoff project? Please share your thoughts in the comments.