Your creative business is growing and it's time to bring on a legal expert to help you.
So how do you go about finding an attorney for your creative business? That's what we are covering in this week's episode of Ask Kiff.
The short answer is finding a lawyer is no different than finding any other service provider. You want to find someone you know, like and trust.
In this episode we'll also be covering:
the three places you can start your search
why you'll likely need to find someone in your state
what questions you should ask potential attorneys
the exact email template you can use to start the conversation with a potential attorney
Show notes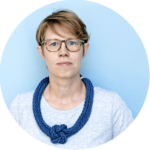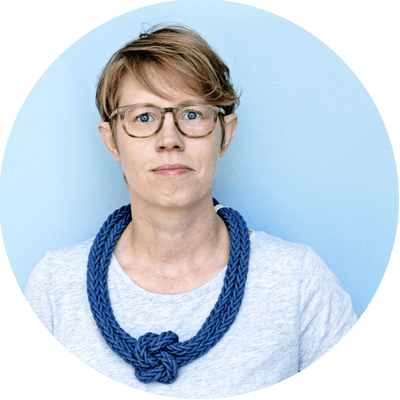 Hi! I'm Kiff! I believe that you can have ease in the legalese of running your creative business.
Each week, I send out an email to help you confidently strengthen your business' legal foundation by sharing my experiences and knowledge.
Get tips from your friendly legal eagle…
Your privacy is important to us. Learn how we protect it here.
Transcript
If you have a problem with your foot, you wouldn't go see an oncologist.
If you had cancer, you wouldn't go to a podiatrist.
Or as my friend Maria says,
You wouldn't go to a podiatrist for a boob job.
The same is true with any service professional. You want to find someone who specializes in the problem that you have.
That's exactly what we're going to cover in this week's episode of Ask Kiff.
Hi, I'm Kiffanie Stahle, founder of the artist's J.D. A place designed to add ease to the legalese of running your creative business.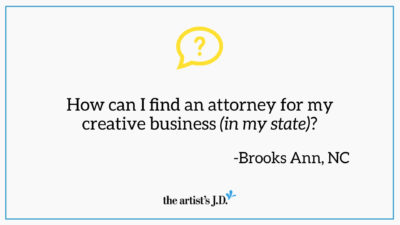 This week's question comes to us from Brooks Ann in North Carolina. She asks,
How can I find an attorney for my creative business in my state?
The short version
You're going to look like you look for any other service professional.
You're going to find someone you know, like, and trust.
And how you will likely find that person is your network.
So what do I mean by this?
Start your search with local brick and mortar shops
Your network is a great place to start to find an attorney for your creative business.
You've probably got businesses that you support that are local brick and mortars.
Brick and mortar locations are far more likely to need an attorney quicker than an online-only business or a small creative business.
And that's because they've got employees, a lease, and they have other insurance requirements. Which means that they're more likely to establish a relationship with an attorney sooner.
So that coffee shop you go to every single morning to grab your coffee. Next time you see the owner say, "Hey, do you have an attorney that you love?" And they might be able to point you in the right direction.
Next turn to your online networks
If that doesn't work, you're probably a member of Facebook Groups or other online groups where you can ask questions.
So ask in those groups, "Hey, do you have a lawyer you love?"
As an aside, my membership community, the artist's Courtyard, is filled with business owners just like you. And they live across the United States. So they can point you in the direction of a lawyer they have worked with previously that might be a good fit for your creative business.
So what if you strike out with your network?
If you ask some brick and mortar businesses, if you ask in Facebook groups, and you don't find anyone or find someone that you don't jive with?
Then there are two other places that you might look.
Third, check with your state's Volunteer Lawyers for the Arts non-profit
The first place is to find out if your state has a nonprofit that's called a Volunteer Lawyer for the Arts organization.
They exist in most states and are another great place to start to find a lawyer for your creative business.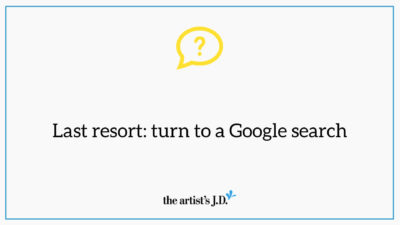 Your last resort: a Google search
If that doesn't work either, then you will have to turn to a Google search.
You'll search for attorneys who specialize in:
working with creative businesses
working with writers
working with photographers
working with [fill in whatever you do]
Location, location, location
Brooks Ann was totally on the right track when she asked it where she could find a lawyer that is in her state.
The reason you want to ask this is lawyers are licensed on a state-by-state basis.
I am a practicing attorney. And I am licensed by the state of California to practice law.
A lot of attorneys have different rules around if they will work with someone who is in a different state.
My rule is that I only serve California-based business or those who are in a dispute with the California-based business, even if you're looking for copyright or trademark help.
However, other attorneys, usually when it comes to things like copyright and trademarks, will help anyone in any state because those are federal laws.
If you want help with:
contracts
LLC
hiring/firing employees
Then you'll want to find an attorney in your state because those laws can vary drastically from state to state.
Because you'll want to make sure you find someone that really know the laws of your state.
Before you hire them, interview them
At this point, either from your network, a Volunteer Lawyers for the Arts organization, or your Google search, you have a few names of potential attorneys.
Once you're at this point, you are going to interview them. (Just like you would a social media manager, VA, or graphic designer).
You want to make sure that they know and understand you and your business.
Your goal should be to find someone who helps similar businesses with similar matters.
If you are negotiating a licensing agreement, they should be familiar with them and your industry.
If you are having them set up your LLC, they should understand how to transfer the intellectual property in your creations from your existing business to the LLC.
If you are having them help you bring on staff members, they should be familiar with the employment laws of your state.
Of course, it's also important that you like talking to them. Because you talk to your attorney frequently.
Most lawyers websites use lots of legal jargon
If you visit a lawyer's website, don't expect a clean Squarespace template with lots of photos.
Instead, you'll find it stuffed with legalese and full of bad stock photos.
Most lawyers haven't gone to marketing classes to learn that websites should talk about how you help your clients. Instead, they are written like they are selling themselves to other lawyers.
Because of this, it's usually easier to start with an email.
In that email, tell them a little about your business and what you are looking for help with.
And ask if this is something that they might be a good fit for.
And if they are, ask what their consultation process looks like.
And if they aren't, ask who he/she would suggest that you talk to.
Email template you can use and customize
Here's a template you can customize:
Hi [LAWYER NAME].

I run a [describe your business]. And I found your name [how you found them].

My business is growing and I'm looking to partner with an attorney to help me do that. I'm thinking that I need help with the following things:

Is this something that's in your wheelhouse? If so, what is your consultation fee? If not, who would you recommend I reach out to?

Thanks!

[YOUR NAME]
Questions to ask when interviewing potential lawyers
When you interview them, you should ask them questions like:
What kinds of clients do you serve?
What kinds of things do you do for your clients?
What kinds of things would I need to talk to another attorney for?
For example, I don't do any employment law. And I always send clients to an employment lawyer because I live in California. And California has tons of crazy employment laws.
And so I know it's in the best interest of my clients to have them talk to someone that specializes in employment law.
Or even though I do copyright and trademark, I don't do patents. So I refer my clients to someone who specializes in patents.
So you'll interview those attorneys.
And maybe they only do intellectual property, which means you'll need someone else for everything else.
You'll want to find someone that can handle the kinds of topics that are most likely to come up. And know in advance, when you'll have to talk to someone else.
TL;DR
The short version is you will want to find an attorney that:
works with creative businesses like yours
is ideally in your state
you know, like, and trust
you want to spend a significant amount of time talking to
And that's how you go about finding an attorney for your creative business!
Got a question for Ask Kiff? Leave it in the comments below!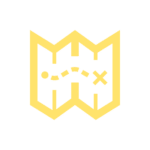 Do you have stress not ease in the legalese of starting your creative business?
Then here's what you need to tackle (in this order):