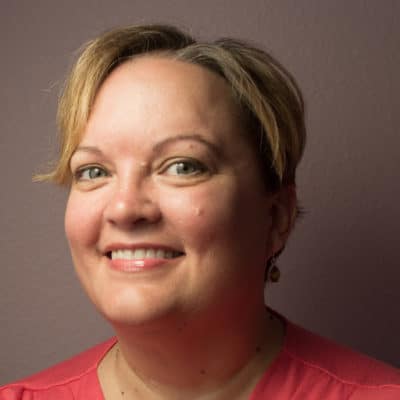 Elizabeth Hahn is the designer behind Cow and Rooster Design, a firm with a hyper-local focus and personal touch.
In fact, she primarily serves small local businesses within two California counties. And she tries to meet each client at their place of business so she can get a feel for their businesses before diving in.
Elizabeth first joined the artist's Courtyard in November 2017. Since then she's strengthened the legal foundation of her business. Including successfully creating her own client contract. (And the first time she used it, the client added three additional services!)
I caught up with Elizabeth to learn more about Cow and Rooster Design, how she runs her creative business, and why she focuses on creating a virtual presence for brick and mortar businesses.
How did you first discover website design for local businesses?
I was going through a period where I knew I wanted to get out of the industry I was in. I had worked on WordPress and straight HTML sites off and on over the previous couple of decades, and had some familiarity with them.
One day I looked up a local business to find their hours. The website was so bad! It didn't have their hours, contact info, and was a garish mix of mismatched colors, fonts, and styles completely unrecognizable from their storefront.
Boom! I knew I wanted to help this company and others in the area.
Who was the first person to believe in your chosen direction?
Me! But also friends and family.
How do you define success for yourself? How do you define success for your business?
Success is being able to pay the bills each month and having a little extra. But I also love seeing my client's businesses grow.
What has been the toughest part of growing your business?
Consistent cash flow. I knew this would be an issue at the beginning – there are boom months and lean months. But I strongly encourage clients to enroll in maintenance programs to keep their sites current (and also refresh from time to time). As I grow, I have more of that known income.
What has been your biggest reward from growing your business?
Watching clients grow and succeed. I got a text last night from someone so excited because she got her first sale off of an email campaign I helped her with. For the most part, my clients are local entrepreneurs. Their success makes where I live a better place.
What's been the most important skill you've learned in growing your business?
It's ok to say no. It's ok to walk away from projects that don't feel right.
What does your typical day look like?
I usually get up around 6 am. Unless I have an appointment I do not set an alarm. Then I do some light stretching.
If I'm working from home, I have a morning routine after I stretch. I'll have breakfast and often check email and social media via my tablet. I'll read while finishing a second cup of coffee. Then I shower and do T'ai Chi. After that, I walk about 20 feet to my office and do a quick Tarot card reading before starting work.
I'm usually most productive from 10 am to 1 pm. I tend to make calls then as well as client work.
On Tuesdays and Thursdays, I have networking lunches at local restaurants. I tend to order the same things every week. The rest of the week, I usually nibble on small snacks throughout the day – fruit, cheese, yogurt & Grape Nuts, sunflower seeds, etc.
In the mid-afternoon, I try to sneak a walk in the woods. My brain naturally needs a break around 3-5pm.
In the evening and night, I do more involved work. (The kind where I don't want to be interrupted by phone calls, texts, etc.)
If the skies are clear before bed I like to sit outside and enjoy the stars for anywhere from a few minutes to a half hour. I'm fortunate enough to live in a place with little light pollution and a high enough altitude that there are gobs and gobs of stars. After that, I'll climb in bed and read for 30 minutes or so.
I know I've had a successful day if I'm mentally and physically tired, but not exhausted. And I took care of the priorities on my to-do list.
What's one thing you're hoping to learn from the other members of the artist's Courtyard?
Inspiration! I always enjoy seeing/hearing how others problem-solve and just approach business in general. I often see a question about something I never even considered, and I'm grateful to have my eyes opened to that issue.
Thanks, Elizabeth for sharing your story!
Now it's your turn…was there part of Elizabeth's story that inspired you? Gave you a new way to approach a problem in your business? Share it in the comments below!
Want to connect with Elizabeth? You can find her on Twitter and of course, in the artist's Courtyard community!