Last month I wrote a guest post series for Oh My! Handmade Goodness on shoring up your business foundations. We talked about getting your website, contracts, structure, and intellectual property shored up.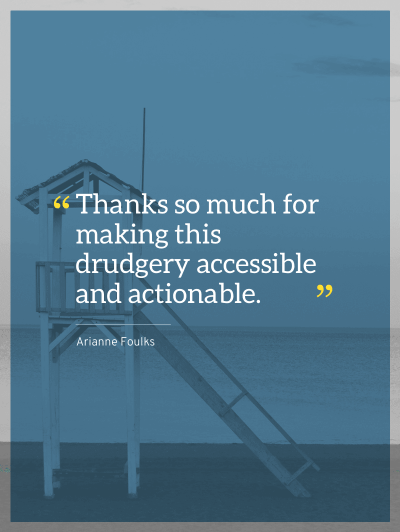 One of the post comments totally made my day. Arianne Foulks wrote:
Thanks so much for making this seeming drudgery accessible and actionable.
This comment made me think about all the simple, easy, and actionable steps that we could be taking. And how these simple steps would solidify our business foundations. I sat down with a legal pad and wrote them out. (I know, a legal pad is so stereotypical for a lawyer, but I do love them for brainstorming!)
Once I had my list I got excited. None of these items were crazy, in fact, you could do most of them in about 30 minutes. But doing all these things would result in a business that works better, which means you'd have more time to create. I go so excited I ran the idea past a few friends and am developing a 30-day e-course that will help you take all these steps.
One simple financial task
When I was working out this idea, one of the friends I chatted with was the lovely Beth Crittenden, my financial go-to gal. (Beth also is my go-to gal for helping people establish a healthy harmony with their money.)
During our chat, I asked Beth what one simple task all small business owners could do to get their finances in order. Without hesitation, she told me
Download and save to the cloud the past year's worth of bank and credit card statements.
The why however was quite powerful. Beth explained what happens if you ever get audited. She said your accountant would need to prepare an in-depth analysis of:
what came in
where it came from
what went out
what is deductible
To prepare this report, your accountant will use these statements. Because we all know that we are terrible at saving receipts. And if you need these statements after the bank has taken them offline, you'll be paying a hefty fee.
After I hung up the phone with Beth I took her advice and downloaded these statements. Of course, it was super simple and took me about 15 minutes. I also added a monthly reminder to my calendar to do this each month.
If, God-forbid, I ever get audited, I now have a folder to share with my accountant and he'll have all the information he needs on this front. I won't have to stress about getting the bank to mail them to me or paying whatever fee they will charge me.
How you can easily apply this today
Take a few minutes right now and download those statements.
Save and organize them in your favorite cloud platform so you have them handy if you ever require them.
What simple steps could you (or should you) be taking to up your business game? I'd love to hear your insights.