Recently on a trip to SFMOMA, I was sitting mesmerized in front of Lorna by Chuck Close. (If you haven't seen his work in person, make a plan to see it. It's AMAZING!) While he uses several mediums, on that visit, two of his Jacquard tapestry works were on display.
In Lorna, Close tricks our eyes into seeing a single color, while in fact, he is using multiple colors. This optical illusion allows us to see a woman's portrait in the multi-colored warp and weft threads. But her face disappears when you get up close and personal.
Contracts are much the same way. When we look closely at them, they are individual words strung together. But the words weave together to form a picture.
This picture reflects the kind of relationship that the contract will create. The picture tells us how collaborative or one-sided the contract will be.
(That's why I'll never give an opinion of if a contract is good or bad from a single section of the contract! Because another section might change the meaning completely.)
While I'm a total nerd and love contracts, I know that contracts can be scary and intimidating. But contracts are essential to your creative business. Contracts:
don't exist to prevent one side from being screwed
don't exist to make sure you get paid
exist to make sure you don't unintentionally disappoint the other side
exist to make sure your expectations are met
Which means that having a contract and using it makes you the kindest business person around. The contract you create doesn't have to be stuffed with legalese. You only need to include three things:
offer
acceptance of your exact offer
exchange of things of value
Sometimes I might convince you that a contract is a good idea. But you still don't use one because you feel like handing over a contract seems like a power play. That by giving it, you are forcing your will on someone else.
Which is why I want to you flip the script. I want you to realize that presenting your contract comes from a giving place. You are giving them a gift, by clearly explaining what you can (and can't) do for them.
In every good relationship, the two of you work out how you expect to be treated. You work out what is or isn't okay in your relationship. For a specific friendship, maybe that means a phone call a week, rather than just texting. For your husband, maybe that means telling him what's wrong, rather than saying I'm fine.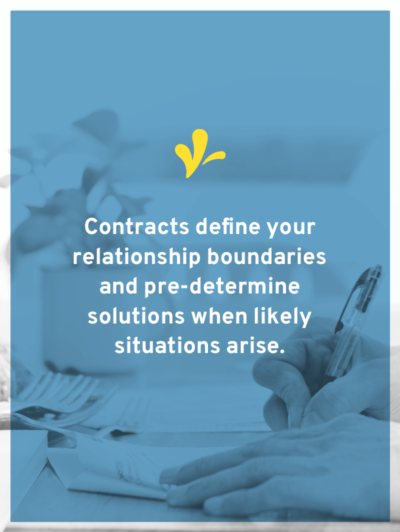 Contracts do the same thing for your business. Contracts define your relationship boundaries and pre-determine solutions when likely situations arise.
So how can you create a contract for your creative business?
Searching "creative business contract template" will give you millions of results. (I got 1.9 million.) But using an Internet template contract or combining several templates together often leads to a Frankenstein contract.
Because remember that we are aiming for Chuck Close. Your contract should weave together words to form an image of the kind of relationship you want to create. You want all the pieces of your contract to work together to form an image.
So what should your contract look like?
To start off, you are going to daydream. During this session, you'll come up with two things. First off, the core issues that your contract is going to address. And second, the common problems that might arise and how you'll fix them. Once you've completed your brainstorm session, you'll turn to putting your contract together.
When putting together your contract, there are 17 things that you might want to include. They are:
cover page
section headings
information about who the contract is between
how long the contract will last
how the contract ends before it's up
what will be exchanged
who owns the intellectual property
timeline or schedule
format of deliverables
approval/revision process
business policies
how payment will happen
what kind of legal relationship you are creating
what you are promising each other
how you'll handle disagreements
if someone can take your place
legal boilerplate
Cover page
When I write contracts for my clients, I often start with a cover page. On this cover page, I list out all of the important things:
the names and contact information of all parties
how long the contract will last
what is being exchanged
schedule
deliverables
any restrictions on the use of deliverables
I then use the rest of the contract to cover the nitty gritty legal stuff. I do this for two reasons:
to make it easier for my client to remember where she needs to update the contract (because everything that changes is on the first page)
to make it easier for the person she's giving the contract to (because what they care about is on the first page)
Section headings
I like to give all the contract sections a 1-2 word heading that describes what is going on in that section. Then, when I need to refer to another section of the contract, I bold the text that includes the heading.
For example, I might say, "Once each deliverable (as outlined in the Delivery Schedule) is received, Designer will submit Client an invoice. Client will pay this invoice within 10 days via PayPal."
This helps weave the sections together to form the picture of the contract.
Information about who the contract is between
The information in this section is pretty simple. All you need to do is explain who is involved in the contract and their contact information.
How long the contract will last
This section of the contract determines how long this contract will last. (The legalese name is the contract term.)
You'll explain how long the initial term of the contract will be and if it can be renewed.
When it comes to the initial term, it might be:
two months
through a specific date
only on a specific date
until a specific deliverable is provided
without an end date (or in legalese, perpetual)
If the initial term can be renewed, you'll need to explain how it happens and for how long. For example,
automatically renewed for a period equal to the initial period
automatically renewed the first time for a year and then upon agreement by both parties
renewed only if both parties agree
How the contract ends before it's up
Here you are going to outline how the contract can end before the term runs out. (In legalese, how a contract can be terminated.)
This might be:
either side can end for any or no reason with 30-day notice
you can end if your client stops paying
your client can end if you don't provide the deliverables you've promised
either side can end if the other files for bankruptcy, becomes insolvent, sells the business
either side can end if the other fails to correct certain behaviors after being told to stop (e.g. failing to provide royalty statements on schedule)
What will be exchanged
One of the requirements for a valid contract is mutual consideration. This means that both of you need to give something of value to the other side.
This can take on many forms:
one of you could provide services and the other pays
one could take photographs and the other could give jewelry
one could create an illustration and the other could provide publicity
The bottom line is in this section, you need to define what the exchange will be.
Who owns the intellectual property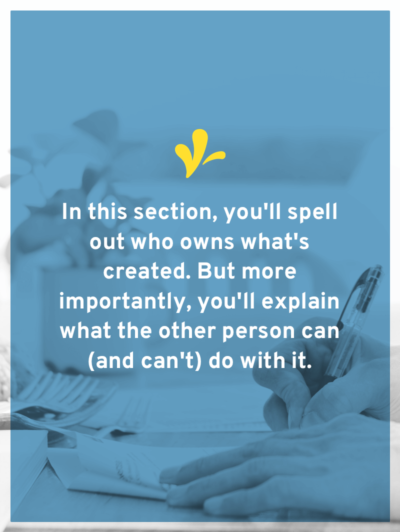 If you are creating or exchanging something of a creative nature, you need to define who owns the intellectual property.
So in this section, you'll spell out who owns it. But more importantly, you'll explain what the person who doesn't own it can do with it.
If you are collaborating, you might be co-owners. If you are the illustrator, you might retain the copyrights and grant them a license to use your illustration on their website for two years.
Timeline or schedule
If there are deliverables or the project will go on for a while, then you'll want to provide a schedule.
For example, you have three weeks to create the first draft. Then they'll have a week to provide edits. And you'll provide them a final draft a week after they send their edits. Or you will deliver everything by a specific date.
Format of deliverables
If you are sending them a deliverable, then you should define what format it will be in.
Will it be:
three painted 6-foot long surfboards?
single .PSD file?
PDF file formatted for printing according to their specs?
Approval/revision process
This might be included in Schedule or it's own section. Either way, you should define what, if any, feedback or edits you'll make to the deliverables.
For example:
if they don't provide edits within a week it's assumed approved?
must they accept the custom piece as long as it matches the sketches you provided?
Business policies
Some service providers have policies for their businesses. And you'll use this section to spell out your company policies.
For example, if you are a wedding photographer or videographer, you might have a policy about cancellations/reschedules. If you are a graphic designer or copywriter, you might have policies about how many rounds of edits you will do (this might be covered in Approval too).
How payment will happen
If What's Being Exchanged includes money, then you should define what that payment process looks like.
Do they need to give you 50% up front, with 25% due when the first draft goes out and the remaining 25% when the final goes out?
Do you have to submit an invoice before payment is due?
How many days to do they have to pay after the invoice is submitted?
Do they pay for any expenses that you incur?
Is this a royalty situation?
If so, how often do they pay and what do those statements look like?
What kind of legal relationship you are creating
If you aren't an LLC or corporation, it's best practice to include that you are an independent contractor and that the contract does not result in an employment relationship. This is for both your protection and for the protection of the other side. But, this means if you are the one getting paid, you are responsible for your own taxes and insurance.
Regardless of your business type, this section also should outline if you are forming a partnership. Under the law, individuals, LLCs or corporations can easily form a partnership. A written contract isn't required, a partnership can be formed through actions. When deciding if you have a legal partnership, we consider of you:
intended to form a partnership
share profits and losses from the products/services you are jointly offering
jointly control business decisions and operations
both contributed funds or time to the joint effort
own equipment, inventory, or other tools together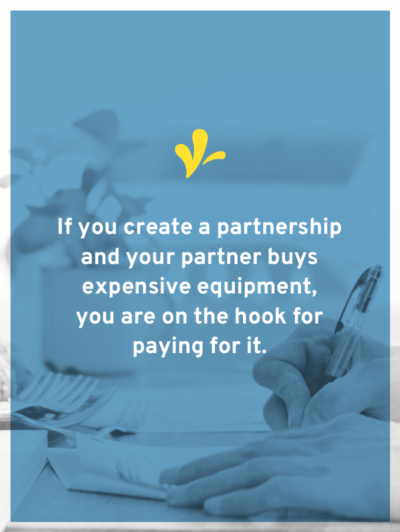 Why you care about this is to protect your own business. If you create a partnership and your partner buys expensive equipment, you are on the hook for paying for it. (Even if you didn't know they were doing it.)
So to help explain that you didn't intend to form a partnership, you might include a section explaining that the contract doesn't create a partnership.
What you are promising each other
You've probably seen a section in contracts called Representations and Warranties. All this section is doing is outlining the promises you are making to each other.
This includes things like you are promising (representing) that you own the copyright to the work product you are giving them, or that you are free to enter into the contract. Use this section to outline any promises you are making to each other.
How you'll handle disagreements
If for some reason the two of you can't agree on what the contract says, or if one of you is failing to live up to the promises you made in the contract, how will disputes be resolved?
Do you want to talk to a mediator?
Do you have a mutual friend that you want to listen to both of you and then make a decision?
I often use the clauses provided by California Lawyers for the Arts, because their mediators and arbitrators are trained to assist creative businesses. If you are not based in California, check to see if your state's Volunteer Lawyers for the Arts organization has a mediation service and sample clauses.
If someone can take your place
You also might have come across a section called Assignment. This section outlines if, and how, either of you can substitute (assign) someone to perform your side of the exchange.
Legal boilerplate
Finally, the contract ends with what we lawyers call "boilerplate" language. It's the things that don't vary much from contract to contract.
These might include:
the fact that this contract and not anything you've discussed previously is what the deal is (merger clause)
what state (and maybe city and county) you have to sue in (jurisdiction clause)
which state laws will apply if there is a dispute (choice of law clause)
if any particular part of the contract is invalid, that the rest of the contract shall still be valid (severability clause)
How you can easily apply this today
Grab the contract checklist below. Then pull out your current client contract and compare it with the checklist above. Is anything missing that you might want to consider?
Spend 5 minutes brainstorming problems that could arise in your client process. Then brainstorm how you might use a contract to prevent them (or pre-determine an outcome) if they happen.
Do you feel more confident drafting contracts for your creative business now? What aspects still make you nervous?