the artist's Courtyard Resource
Create a Contract Course
Get access to a course designed to help you finally ditch the annoying, selfish clients. By creating a contract that you (and your clients) love.
A couple weeks ago, I had the unfortunate experience of helping with a business divorce. About three months ago I started working on a contract review project with two women who co-owned a business. They hired me to review a contract that had been presented to them.
During a contract review kick-off session, I like to learn how the contract fits in with your business goals. So I asked them their goals for their business and how they thought this contract would help them accomplish those goals.
The answers I got were drastically different.
When I told them that I didn't understand how both of these could live in the same business, they gave me a blank stare. They told me they agreed on the vision of the business and the person they wanted to serve. I agreed. But I saw conflicts between the ways that they both intended to execute that vision and serve those people. We ended up spending an hour talking about the differences in the direction they wanted to take their business. And that ultimately one of them would have to sacrifice their execution plan.
What started off as an exciting call about a potential business opportunity quickly changed. After the call, they had some tough conversations and decided to close their business.
I separately got cards from both of the women over the past week. To my surprise they said much of the same thing, thank you for making us have those conversations. They both said that they know that they will be friends after this experience. Both of them said they were starting to feel some tension. And that if they hadn't had those conversations now, they would have lost their friendship too.
While I hate forcing people to have tough conversations, that's much of what my job entails.
When you start working with a friend, both of you are excited to work together and want to see the project succeed. But sometimes because of the friendship, you fail to have tough conversations that you would have with a stranger.
The reality is that making sure you are on the same page is even more important when you are friends.
Because you want to be friends afterward, right?
Presenting a contract to a friend
Presenting a contract can be an emotionally charged experience. When you present a contract you must walk a tightrope. You have to keep your eyes on the other side and have faith that you are going to make it, but tread carefully.
This tightrope walk can get even scarier when you are working with a friend.
Will your friend think you don't trust her?
Will she think you are trying to take control?
Will she get turned off by making things "official"?
These questions scare you, and because of them you don't make sure you and your friend are on the same page.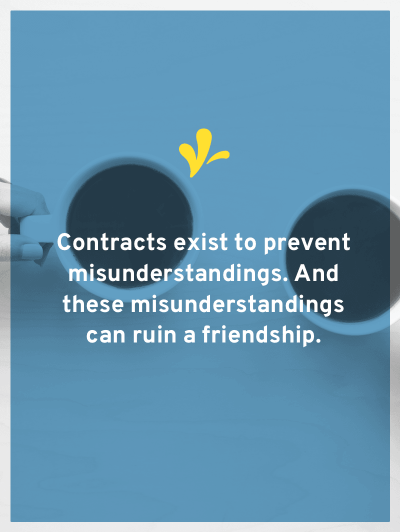 Most people think that contracts exist to prevent you from getting screwed over, but the reality is they exist to prevent misunderstandings.
And these misunderstandings are what can ruin your friendship.
So the next time you embark on a project with a friend, summarize your conversations about the project. And then shoot her this email:
Hey lady!
I'm so excited to start working on this project with you! I really value our friendship and admire what you are accomplishing in your business. I would hate to unintentionally not live up to your expectations on what I'll be contributing to this project.
I've outlined what I understood our roles and responsibilities to be for this project below.
INSERT SUMMARY
Do you agree? Did I miss anything?
Looking forward to diving in!
xoxo
-kiff
While it might lead to some tough conversations, those conversations just might preserve your friendship.
Have you ever entered into a contract with a friend? What did you learn? If not, why not?
the artist's Courtyard Resource
Create a Contract Course
Get access to a course designed to help you finally ditch the annoying, selfish clients. By creating a contract that you (and your clients) love.