the artist's Courtyard Resource
Create a Contract Course
Get access to a course designed to help you finally ditch the annoying, selfish clients. By creating a contract that you (and your clients) love.
If you've ever read a contract, you know that there are several clauses at the end full of legalese. These clauses known as contract boilerplate are fairly similar in every contract. And they look something like this:
15. Assignment. Neither party shall have the right to assign or subcontract any of its obligations or duties under this agreement without the prior written consent of the other party, which consent shall not be unreasonably withheld or delayed.
16. Successors and Assigns. This Agreement shall be binding on and inure to the benefit of the parties hereto and their respective heirs, legal or personal representatives, successors and assigns.
17. Attorneys Fees. The non-prevailing party in any dispute under this Agreement shall pay all costs and expenses, including expert witness fees and attorneys' fees, incurred by the prevailing party in resolving such dispute.
18. Governing Law and Venue. This Agreement shall be governed by and construed in accordance with the internal laws of the State of California, without reference to any conflicts of law provisions. Each party hereby submits to the exclusive jurisdiction of, and waives any venue or other objection against, any federal court sitting in the State of California, or any California state court in any legal proceeding arising out of or relating to this Contract. Each party agrees that all claims and matters may be heard and determined in any such court and each party waives any right to object to such filing on venue, forum non conveniens or similar grounds.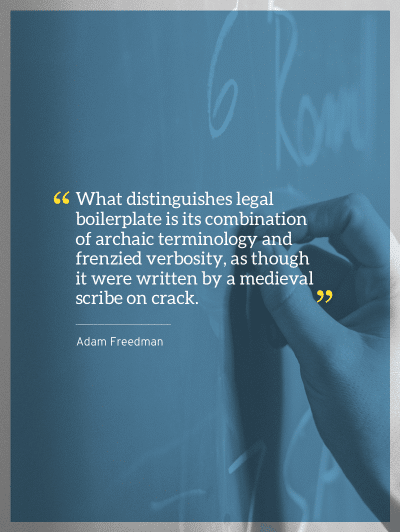 19. Entire Agreement. This Agreement sets forth and constitutes the entire agreement and understanding of the parties with respect to the subject matter hereof. This Agreement supersedes any and all prior agreements, negotiations, correspondence, undertakings, promises, covenants, arrangements, communications, representations and warranties, whether oral or written of any party to this Agreement.
20. Written Modification. This Agreement may be amended or modified only by a writing executed by both parties.
As the video points out, Adam Freedman has penned an accurate (and humorous) description of this language:
What distinguishes legal boilerplate is its combination of archaic terminology and frenzied verbosity, as though it were written by a medieval scribe on crack.
(h/t The Sense of Style by Stephen Pinker
[affiliate link])
I don't want you to sign a contract you don't understand, so in this episode of Kiff Says we are going to translate this legalese.
What other contract language seems like it was written by a scribe on crack? Share your thoughts in the comments.
the artist's Courtyard Resource
Create a Contract Course
Get access to a course designed to help you finally ditch the annoying, selfish clients. By creating a contract that you (and your clients) love.