Figuring out ways to leverage one piece of artwork into multiple sources of income is an issue for every creative business. For visual artists, this becomes even more difficult in our right-click Internet society. The reality is that the only way to prevent your images from being posted without your permission is to not post them at all.
As website owners, it is the law that we only use images that we own or that we have permission to use. When we fail to ask permission before using someone else's work, we tell them that we don't value their creative endeavors.
Really who are we to decide if other artists work for free? Shouldn't they be able to make that decision?
We all work for free at different times, sometimes for the press, sometimes because we believe in the cause, but the artist should decide to work for free, not us as the website owner.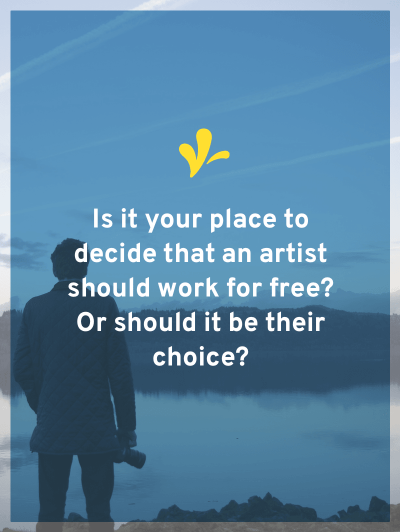 And when we fail to ask permission, it's totally within the artist's legal rights to send us a letter calling us out on it. And who wants to wake up to the following email in their inbox?
Dear Website Owner,
We represent Photographer. Photographer owns the copyright to "Amazing Photo". This photograph was registered with the U.S. Copyright Office on January 1, 2014. Both the copyright registration and image are enclosed for your information.
It has come to our attention that you have published this image on your website at http://www.yourwebsite.com/amazing-photo-blogpost. A screenshot of the respective pages on your website are attached to this letter for your reference. Reproduction rights are reserved to the photographer and licensing closely monitored. Photographer does not have a record of licensing this image for reproduction on your website.
Although this use might have been unintentional, the use of an image without a valid license is considered copyright infringement in violation of U.S. copyright law. Your intentional copying of "Amazing Photo" is a willful act of infringement, and creates the prospect for significant liability under the Copyright Act. You may not be aware that the owner of a copyright may be entitled to up to $150,000 for each willful act of infringement of a registered work, plus the attorneys' fees and costs incurred in pursuing an action against the infringers. Removal of the infringed work does not relieve you from liability for damages arising from your past infringement.
Photographer would like to avoid initiating a legal action for copyright infringement, if possible. We hope that the matter might be resolved without such legal process. Accordingly, Photographer is willing to arrange for a retroactive license, provided that you:
Cease and desist from any and all unauthorized uses of the image; and
Provide a written report of all your uses of the image; and
Pay a mutually-agreeable retroactive license fee within thirty (30) days of this letter.
We are hopeful that this matter can be resolved quickly and amicably and are prepared to cooperate with you in this regard. A prompt reply to this email will be regarded as a gesture of good intent. If you do not comply, Photographer has authorized this firm to file a complaint in Federal Court for injunctive relief and damages under the Copyright Act. We would rather not take such action and hope that a reasonable settlement can be arranged.
This letter is not intended to be a complete statement of my client's positions, rights or remedies or the basis therefore. Further, nothing contained herein or omitted here from shall be deemed an admission of any fact or a waiver of any of my client's positions, rights or remedies, all of which are hereby expressly reserved. If you have any questions, please contact me.
Sincerely,
Attorney
But many websites run the risk of getting this letter each time they post because they fail to get permission.
So when can I use this photo?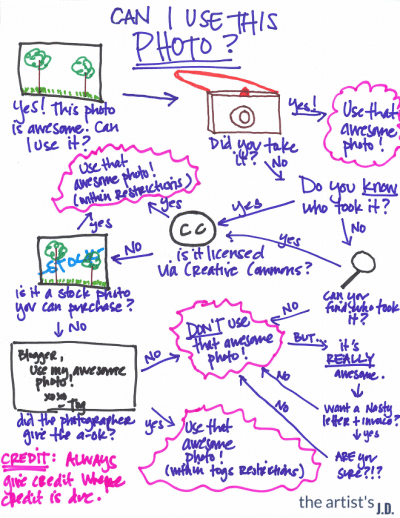 Did you take it?
The first question posted by the chart is a no-brainer; of course you can use any photos you took yourself.
Do you know who took it?
More commonly, you'll be looking at a photo that you didn't take yourself. If this is the case, the first step is to figure out who took it. If you don't already know, then turn to services like Tineye or Google Images to conduct a reverse image search to see if you can locate the source of the photograph. If you can't find who took the photo (or aren't willing to perform this search), then you shouldn't use the image.
Has the photographer given "pre-authorization"?
Once you've located the photographer, you'll want to find out if they've already given "pre-approval" for certain kinds of uses. This could be done through a Creative Commons license, where a photographer may give anyone permission to use a specific photograph for any purpose as long you credit the photographer (a CC BY license). Or the photographer might be working with a stock agency and will have granted purchasers the right to use the photograph within the agency's license. If this is the case, you are free to use the image as long as you obey the "pre-authorization" of the photographer.
Has the photographer given you permission?
If the photographer has not given "pre-authorization," you'll want to email the photographer directly and ask for permission. Photographers just like all creative people, make a living off selling their work. So don't be surprised if the photographer has a licensing fee. If they granted you the a-ok, go ahead and use the image within any license restrictions that they gave you. If not, don't use that photograph unless you are okay with getting an email like the one above.
Credit where credit is due
If a photographer is generous enough to pre-authorize your use via Creative Commons, then make sure you give them props.
Often to find images, I turn to Flickr. Flickr is great because you can limit your search results to those licensed via Creative Commons (and more importantly those that can be used commercially). When I find something I want to use, I take the following steps:
If possible, embed the photo directly from Flickr, rather than downloading it and hosting it on my site.
Link the photo directly back to the photographer's Flickr photo page.
Put a credit line in the post linking back to the photographer's Flickr page.
Leave a comment on the photo itself, thanking the photographer for sharing via Creative Commons and letting them know the URL where I used the photo.
Using these best practices not only gives credit to the photographer, but also encourages photographers to sharing more of their images via licenses like Creative Commons.
Take a moment to put yourself into the shoes of the visual artists whose images appear on your website. Are there any changes you feel like you should make to your site?