I'm going to tell you a little secret: starting a creative business by yourself doesn't require paperwork.
In fact, by going out and offering your products or services, you automatically are a business. This kind of business in legalese is called a sole proprietorship. And this happens as soon as you go out and start running a business—no paperwork needed. (If you are running a business with a friend, it's called a partnership, and the same process applies.) And if you are thinking about forming an LLC, you can hop over here to learn the seven steps you'll need to take.
All you need to do is:
open up an Etsy shop
head out to a craft fair
head to a local store and ask them to stock your products
stop in the local coffee shop and ask them to hang your prints
But even though you aren't required to do any paperwork to become a business, that doesn't mean that you shouldn't do legal paperwork. There are four things you should do to make your business legit:
get your permits and licenses
file for a FBN/DBA
get an EIN
open a business bank account
Permits and Licenses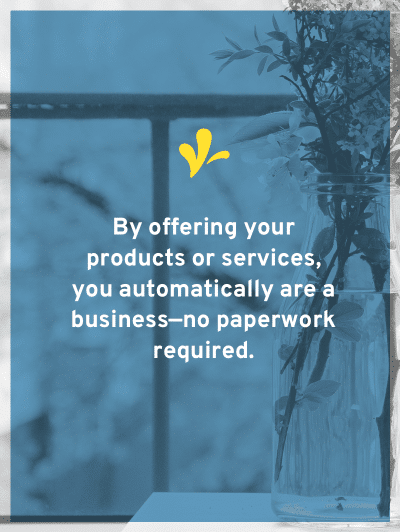 That being said, most places require all businesses to have permits and licenses. These might include a:
business license
seller's permit
home occupancy license
fire permit
Based on your location and the type of business you are running, your requirements will vary. A good place to point you in the right direction is this directory from the Small Business Association.
Additionally, many city and county websites have a section dedicated to small business owners. And this section often contains lots of tools and resources on what you need to do to run a legit business within their borders. In fact, in some cities you can apply online, so you can get registered without having to take off your soft pants! Other times, you'll have to put on real pants and head down to City Hall to make it happen.
As for costs, this also varies widely. Some locations charge a yearly flat rate, others a percentage of your revenue, and some a hybrid of the two. But these costs are usually minimal.
Fictitious Business Name or Doing Business As Statement
A Fictitious Business Name (FBN) or Doing Business As (DBA) statement is the same thing. But are called one or the other depending on where you live. You need one of these when:
your business name does not include the surname of all of the owners
your business name suggests that multiple individuals own it
the type of business in not clear from the name of the business
Note: You also need one if the name the public associates with your business is not the same as your LLC or corporation name. But since you aren't a LLC or corporation yet, this wouldn't apply.
For example:
Kiffanie's Creative Studio would need one because it doesn't include my last name
Stahle + Friends Knit would need one because the name suggests multiple owners
Stahle Creative would need one because the name doesn't indicate the kind of business
Often you apply for your FBN/DBA in the same place as you apply for your business license. You'll usually also have to publish a notice in your local newspaper. Most City Clerks will give you a list of acceptable papers and instructions on what to do. And newspapers are familiar with running these notices and are usually helpful. Finally, you must renew your statement every several years.
Employer Identification Number
What you might not know is that even though you don't have employees you can get an employer identification number (EIN) from the IRS.
There are two reasons that I suggest getting an EIN from the IRS for your business.
You add a layer of protection between you and identity thieves
I'm not suggesting that your clients will steal your identity, but you can't control for accidents. They might store their files on a cloud platform that gets hacked or their brick and mortar might get robbed. And a W-9 form contains everything someone needs to steal your identity. But by giving them an EIN you add a layer of protection to your personal information.
A W-9 form contains everything someone needs to steal your identity.
It makes your business look legit
Taking a few minutes to get an EIN shows that you are a business, and you treat your business like one. This isn't some hobby or side project but how you are making your living. It sends a quiet and powerful signal that you are running a legit business. (Plus, it's totally free!)
And it only takes about five minutes to order one of these numbers from the IRS.
Getting an EIN shows that you are a business, and you treat your business like one. This isn't some hobby or side project but how you are making your living.
Then once you have this number, use it on your:
business license
PayPal, Stripe, and other banking accounts
all W-9 forms
and anywhere else that asks you for a tax ID for your business
Business Bank Accounts
The final item also isn't a legal requirement, but will save you lots of headaches come tax time. And that is opening a business bank account.
I always suggest opening a business account is because it starts the mental mind shift. You start training your brain that your business isn't your personal piggy bank. Your business is a living breathing thing that deserves a little respect and its own space. Having a separate account also helps remind you what hat you are wearing when you do something. Are these art supplies for a client project? Or a personal one? I even have my accounts at separate banks. Because that way the debit cards look different and I don't accidentally use the wrong one.
It also will make you (and your tax preparer) super happy at tax time. Because it will reduce the headache of deciding what is and isn't a business expense. You already know that everything that went through that account is a business expense.
Every bank has different requirements; so call ahead to see what they will need to open your account. But expect them to want your:
EIN
FBN/DBA (if you needed one)
business license
Are you starting a creative business? Click the image below to download a step-by-step checklist that you can use to help you get everything done.
And that's it!
I encourage you to head over to Google and enter your city or county name and business license. I bet the first result will tell you what you need to do to apply for your business license. Which means you can get the first item crossed off your list.
Once you've done that, will you do me a favor? Leave the website that you found as a comment. Not only will you help another creative business owner, but you also might make a local friend!
(And if you, like me, are from Oakland, California here is the webpage you need.)