Want help putting together your LLC records?
And would you like to understand exactly what's expected of you now that you are an LLC?
Then check out my course designed to help you keep your fence strong and accomplish all the one-time and on-going tasks that an LLC is expected to do.
The other day I had lunch with a friend. I took her to lunch because she had texted saying that she just found out that the IRS was auditing her tax return. Over a lunch (and a glass of wine) she told me that this audit resulted in two different panic attacks.
Of course, the first one was when she opened her mailbox and saw the letter from the IRS. Her panic then amplified when she opened the letter and read that she was being audited.
After her husband calmed her down, she emailed her CPA a copy of the letter. His response resulted in the second panic attack. He gave her a list of documents that she needed to gather for them to go over so that he could assess the situation.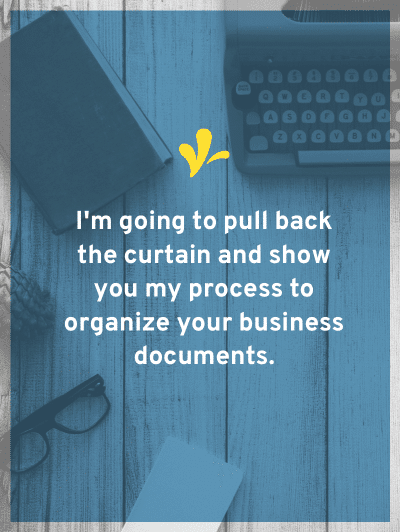 She was still trying to pull together all these documents when we had lunch. While I empathized with her situation, I also was a little surprised. Some of the documents that she needed to pull together, I assume that every business has in a safe spot.
I know that I tend to be a little anal and meticulous about these things. (And that's probably why I'm a lawyer.) I'm also guessing that you are more like my friend, than me.
So that you can organize your business documents like I would, I'm going to pull back the curtain and show you my process.
My organization process
This process is what I share with my clients when we work together and use myself. To start off, I suggest that you create a folder in your favorite cloud storage platform. You should name this folder something like "Important Legal Documents."
Then based on your business type, you can use the chart below to see which documents you should save in this folder.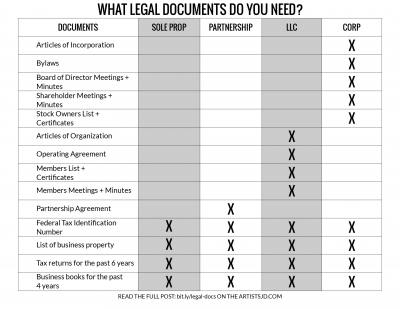 Corporation-specific
Articles of Incorporation
This document can also go by a couple other names: Certificate of Incorporation or Corporate Charter. Regardless of what it is called, it's the document that you filed with the State when you incorporated. You should have a certified paper copy of the filed version of this document in a safe place and a scanned version of it in your folder.
Bylaws
For a corporation, the bylaws dictate how the corporation must be run. It outlines things like the number of members on the board of directors, how often meetings happen and how to have those meetings.
Board of Directors Minutes + Consents
The reason many creatives shy away from corporations is because of the record-keeping requirements. Corporations must keep records of approval by the Board of Directors for all major business decisions. These approvals happen at your annual board meetings and via written consents.
Shareholder Minutes
In addition, corporations must hold an annual meeting of its shareholders and keep a record of that meeting.
Shareholder's List
The corporation must keep a list of all its shareholders. This list should also contain their address, the number of shares, the price paid for their shares, and any dividends.
LLC-specific
Articles of Organization
Like Articles of Incorporation, this document can go by a few names: Certificate of Organization or Certificate of Formation. But again is the document you filed with your state to become a LLC. Your file should contain a scanned copy of the certified paper copy, with the paper copy being filed in a safe place.
Operating Agreement
An Operating Agreement is the document that outlines how the LLC should be run. It also outlines what will happen if certain situations arise. A copy of the original signed version of this agreement should be tucked away in a safe place, with a scanned copy included in your electronic files.
Members List
LLCs should have a list of all the LLC members. This list should also contain their address, their contributions to the LLC, their percentage ownership, and their share of profits and losses.
Members Meetings Minutes + Consents
While the requirements for a LLC are less stringent than a corporation, the LLC should document major business decisions. This can be done via minutes from a meeting or through written consents.
Partnership-specific
Partnership Agreement
A partnership agreement outlines roles, responsibilities, and share of profits and losses. This document also should outline how specific situations will be handled. A hard copy of the original signed version of your partnership agreement should be tucked in a safe place, with a backup scanned copy in your files.
All businesses
Federal Employee Identification Number
Even if you are a sole proprietor and don't have employees, I strongly suggest that you get an EIN. That's because you can use this number instead of your social security number, for all your business documents. Does someone you did work for need a W-9? You can fill out your EIN on it, rather than your social security number. What's even better is the IRS will let you order one for free here.
Property List
All businesses should keep a list of the business assets, including equipment, inventory, and supplies.
Tax Returns
Businesses should keep in this file the past six years of tax returns for either all the owners personally or the business itself. For new businesses, this means that you'll compile six and then can destroy the older ones as you file a new return.
Business Books
The full books of your business should be kept for at least four years. (I personally keep them for six so I have the full books in case of an IRS audit.) Once again, new businesses will keep them until you have at least four and then you can delete the data as you accumulate the next year.
Is it a pain to compile these records? It is. But for the most part you'll only need to do it once and then they can just sit there until you need them. But keeping these documents show that you are treating your business like a business, and not your personal piggy bank. And for those of you that are LLCs and corporations, keeping your business life separate keeps your fence strong. (Which is the whole reason you went down that road.)
Then if God-forbid, you are ever in my friend's shoes, you will only have one panic attack: the audit. Not trying to wrangle a bunch of documents together on top of it.
That's exactly why I keep these documents organized: to give me peace of mind. So that when I need them, all I have to do is open Dropbox and the document I need is at my fingertips.
Want help putting together your LLC records?
And would you like to understand exactly what's expected of you now that you are an LLC?
Then check out my course designed to help you keep your fence strong and accomplish all the one-time and on-going tasks that an LLC is expected to do.
I encourage you to block off time this week to organize your documents like a lawyer. And get some peace of mind that you are all set.
Does this help you know what you need to have in your file? Are you going to block off time? Let us know in the comments so we can help you get these documents organized.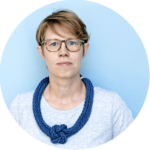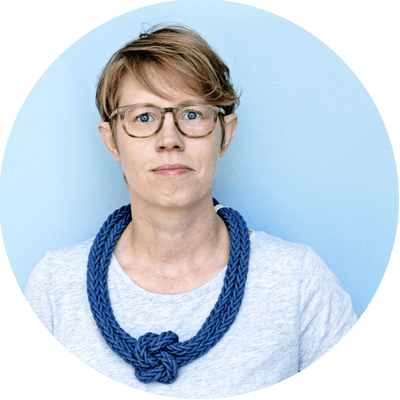 Hi! I'm Kiff! I believe that you can have ease in the legalese of running your creative business.
Each week, I send out an email to help you confidently strengthen your business' legal foundation by sharing my experiences and knowledge.
Get tips from your friendly legal eagle…
Your privacy is important to us. Learn how we protect it here.