I've been teaching a version of my 5 must-do legal tasks course since 2016.
(The latest version of it is in my Legal Roadmap book. You can get access to it plus dozens of quick videos, and checklists for $20! Buy now.)
One of the biggest challenges of that course is teaching how to get the right business permits and licenses.
And that's because there is no universal standard.
There's no universal standard for when you need certain business permits and licenses.
There's no universal standard about how much they cost.
There's no universal standard about who to call.
Instead, it's determined, usually, on a city or county level.
And every city and county treats these things slightly differently.
So if I tried to create a database of what's required in your location, I'd spend all my time trying to research and keep the data up to date.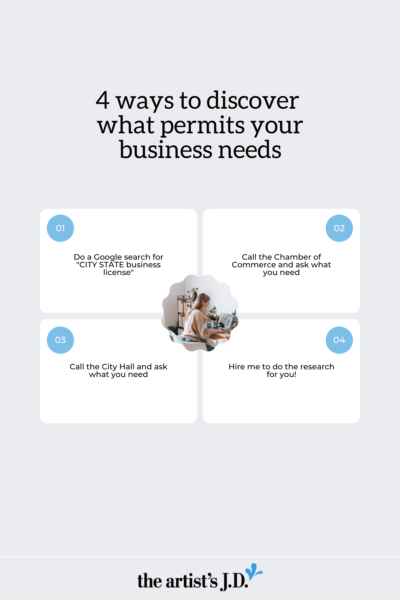 Instead, for the past six years, I've been sharing my best tips and tricks based on how I do the research myself:
I start with a Google search for "CITY STATE business license"
If that doesn't give me good results, I call the Chamber of Commerce and ask, "My client is thinking of starting a creative business that does this, what permits and licenses do you think she needs?"
If I strike out there, I call City Hall and ask the same question.
And I compile what I find and share the information with my client.
And since I've been doing these searches as a lawyer for more than a decade, the process usually doesn't take very long.
But I've heard time and time again from you that the process isn't so simple when you try to follow my process.
So last week over my mini-sabbatical week, I had the idea of offering a research service where I'll figure out what you need.
What the process will look like:
Once your purchase is complete, you'll be directed to a form to share information about your business
I'll follow up with any questions and get started researching
Within two business days, I'll email you:

a list of the business permits and licenses your business needs
direct links to the PDF or online forms to complete your permit and licenses applications
information on the costs associated with each application
And then all you'll need to do is fill out the applications and submit them with any required filing fee!
To experiment with this idea, I'm going to offer this service for $99 for a limited time. If you are interested, you can purchase this service here.
Chat soon,
Want help getting all your legal ducks in a row?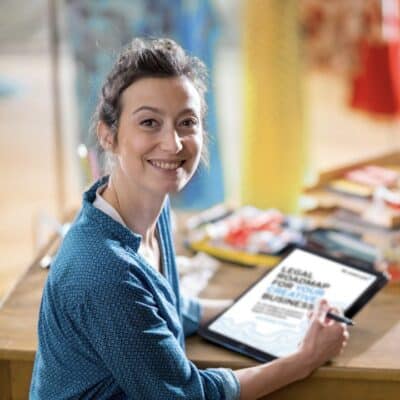 Wish you had a straightforward strategy to protect your ass(ets) without legal confusion? Then the Legal Roadmap book is your go-to guide.
Inside this book, you'll find three Maps that will help you build a business you love, built on a strong legal foundation. And you'll get my guidance step-by-step to execute each of the action items contained in the Maps.
---
The latest from the artist's Courtyard…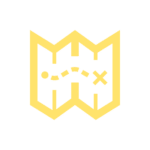 ICYMI, here are some highlights from the past few weeks in the artist's Courtyard community:
I've launched the latest version of the roadmap to get your legal ducks in a row–no matter what stage you are in your creative business. Head to The Legal Atlas Map (which is more like a choose-your-own-adventure book!)
Angela was on Planet Money getting interviewed about her experiences with copycats and the new small claims copyright court. You can read about it here. And listen to the interview here.
Elizabeth had a great question in response to the business values lesson about how to discover how your business is perceived. Read her values and chime in with ideas here.
A conversation with Rachel reminded me that I hadn't shared my go-to follow-up email for when clients/partners/those you are working with go MIA in a while, you can see it here.
Friday Rundown will be today at noon Pacific and we've got our final Campfire Chat of the summer coming up on August 3rd. See all events here.
Want my feedback on your contract or business plan? Our next Hot Seats call will be on August 10th at 1 PM Pacific | 4 PM Eastern. RSVP here and learn how to submit your business plan or contract.
Not a member of the artist's Courtyard? Get access to all the resources you need to protect your ass(ets) without legal confusion for $45/month! Join now.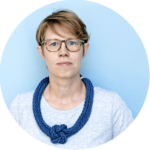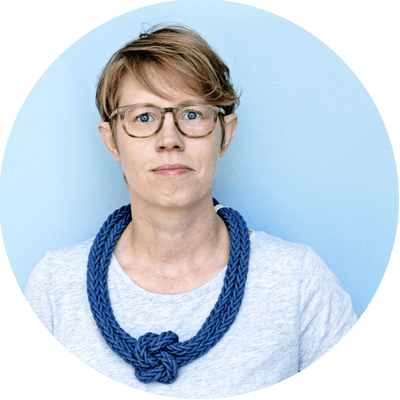 Hi! I'm Kiff! I'm your friendly legal eagle (and licensed attorney).
My goal is to add ease to the legalese. And because I think basic legal resources should be available to every creative, I create a lot of free content.
If I've created something that has helped inject a little ease into your creative business and you would like to say "thank you", you can make a contribution here.
If you'd like to hear more from me, I'd love to pop into your inbox every Friday morning to share additional ways to cut through the red tape and inject a little ease.
Get tips from your friendly legal eagle in your inbox…
Your privacy is important to us. Learn how we protect it here.