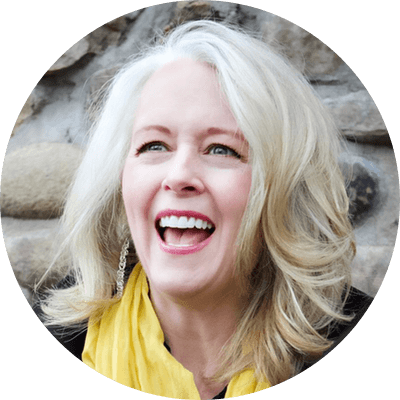 I first learned about Alyson Stanfield almost nine years ago via Google. I turned to Google because I was helping curate an art show. It was the first show I was taking an active role in the curation and promotion process. And I didn't want to look like a total idiot when talking to the friend-of-a-friend I was curating with. So one afternoon I turned to Google so I could come to our planning meeting with some solid ideas. And while searching, I found Alyson's blog, The Art Biz Blog.
Alyson's generosity of sharing her wealth of experience in such a practical and useful way was so refreshing. And that day I ended up spending an entire afternoon hopping from article to article on her website. Alyson's blog is still one that I read each time she posts (thanks to Feedly). And it is one of the blogs I highly recommend to artists that want to build a thriving business. So I'm so honored that she's agreed to share a story about the time she got a trademark cease and desist letter. After she shares her story, I'll pop back in and share how you can avoid this experience.
Without diving into the nitty gritty, tell us a little about a time you learned the "legal" ropes…
Someone sent his lawyer after me to threaten a lawsuit over the name of one of my programs.
Yuck, that doesn't sound fun, how did you feel at that moment?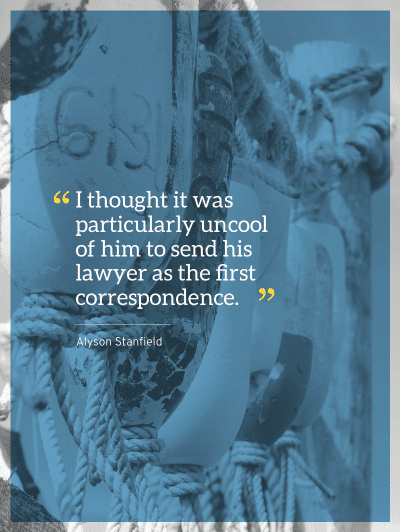 Betrayed. I thought we were all in this to help artists. If he had emailed me himself with his concerns, I would have been happy to discuss. I thought it was particularly uncool of him to send his lawyer as the first correspondence.
Did this impact your creative business? How?
Not really. I changed the name of the program – mostly because I didn't want to be associated in any way with him.
What ropes did you learn from going through this experience?
It's so helpful to have a good attorney. Mine was on the case right away and wrote the most incredible attack-dog response that I could have never written (attorney to attorney). It was well worth the cost to have him on my side.
How can you avoid this?
Thanks Alyson! So now, what can you do to avoid Alyson's situation? One thing you can never control is other people's reactions. This isn't one of those situations you can take a concrete action and never have to worry about it happening. What you can do is take two steps to make your life a little less stressful if that letter lands in your inbox.
One thing you can never control is other people's reactions.
Selecting Product Names
The first way you can make your life easier is to make sure you select a unique name. Product names that are descriptive of your products can never gain trademark protection. So either:
avoid descriptive names
understand that you might run into people who don't get this and might send you a nasty letter
Once you've got your list of possible names, it's important to research your names. Trademarks, unlike copyright, do not have to be registered to be enforced. So a quick search of a domain name database or the USPTO database isn't enough to make sure you are in the clear.
Follow my trademark search process!
Trademark searches aren't quick and easy…
But enter your email and I'll send you over my step-by-step process for doing a trademark search. And give you a checklist to help you keep track of which steps you've completed!
Your privacy is important to us. Learn how we protect it here.
Having a Team in Place
But even if you find a unique name, you might not avoid a trademark cease and desist letter. Which is why it's important to have a trusted team member in place before you get the letter. This person likely will be an attorney.
When you look to find this team member, trust your gut. Find someone that you:
trust to watch your back
think has your best interests in mind
know has experience with creative businesses like yours
Your network is a great place to find this person. But there are also lots of other resources out there to help you find the right person.
Have you ever had to switch gears because of someone else's reaction? How did you find the right attorney to help your creative business? Share your story in the comments.
Want to connect with Alyson? You can read almost twelve years(!) worth of her knowledge on her blog. Or you can connect with her on Facebook.