Should I be an LLC?
Do you know if it's time to become an LLC? Learn if your creative business should be an LLC by answering 13 questions.
Ready to prioritize your legal tasks so you can exponentially grow your business?
When I'm wearing my lawyer hat, one of my favorite conversations is when a client calls because they just got their dream phone call. Everyone's call is different, it might be major press for their products, a big speaking gig, or a huge licensing deal.
One of the keys to feeling excited in this moment–rather than dread–is having all your legal ducks in a row. Getting your foundation secure before you get this phone call makes this a dance in your socks on your living room floor moment. Rather than an OMG! I have no idea how to make this happen moment.
So before you get your big break it's important to learn:
how to prioritize your legal to-do list
what needs to be on it
what you can delete for the time being
Resources to help you out
Looking for press for your creative business? You've got a list of dream press outlets that you want to feature your business. But you need to make sure these eight business foundation tasks are secure, before seeking that press.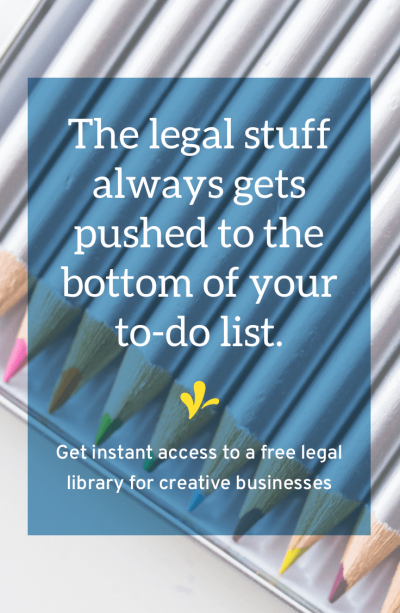 Tired of searching for resources free of legal jargon? Register and get instant access to a legal library with dozens of free legal resources designed for creative businesses just like yours. Plus, get access to our private Q&A community.
Did you know you can register your trademark both too early and too late? Learn what three questions you should answer to know if it's the right time to register your trademark. So that you aren't like Lela Barker and wish you could go back in time and spend $2,000 to save $150,000.
Does a contract have to include legalese to be valid? You've got an excuse for why you don't have a contract. Maybe it is related to time, money or fear. But you can write a contract, without any legal jargon. And it only needs to include three simple things.
Ready to create an LLC? While the requirements vary slightly depending on which U.S. State your business is in, generally there are seven steps you must complete to create an LLC. Learn these steps you'll need to take and download a free worksheet to help you complete them.
Before I connected with Kiffanie I was a bit lost and overwhelmed with the legal stuff related to running my small art biz. Kiffanie has such a friendly way of talking about law. It's like having a best friend who is a lawyer on speed dial, who shows up with helpful tips and subjects you didn't even realize you needed to pay attention to.

Mika Harmony
Should I be an LLC?
Do you know if it's time to become an LLC? Learn if your creative business should be an LLC by answering 13 questions.
[social_warfare]