Are you overwhelmed by your legal to do list? Do you ever wonder:
What tasks do I have to do to move forward?
What tasks are legally required?
How little can I get away with when it comes to the legal stuff?
Then I've got a treat for you!
Last year, I started offering personalized legal to do lists to my law firm clients. And they were a hit! My clients raved about how nice it was to know exactly what legal tasks they (or we) were going to tackle. (And which ones they could ignore.)
I know that many of you would also love to know what order you should tackle things. And pick my brain about what I think you should put at the top of your legal to do list. So, I put on my brainstorming cap.
The result is a 7-question quiz you can take to get a prioritized list of the legal to-dos your creative business should tackle.
And no, this isn't some silly quiz with only four generic results. I've designed a system that creates and sorts your list based on your exact answers.
Which means you'll be getting one of more than a hundred possible legal to do lists.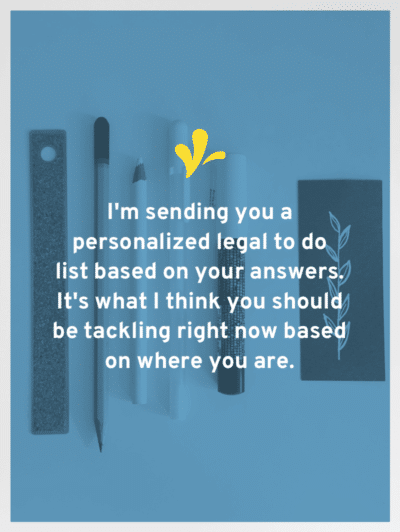 My big 2017 goal is to help you take action. So to help you do that, I've designed this to send you a personalized legal to do list based on your exact answers. It's what I think you should be tackling right now based on where you are.
You'll also be getting tools and resources to help you tackle each of the to-do items I send.
This quiz will not only save you time but the headache of trying to figure it out for yourself.
So if you've been letting the legal to-dos fall by the wayside, take the quiz. You no longer have the excuse of not knowing what actions will give you the biggest bang for your buck (or time).
Sounds amazing right?
Then take the quiz below and get your personalized legal to-do list:
What roadblocks do you have in tackling the legal to-dos in your creative business? Let me know in the comments, so I can brainstorm solutions!